Environment ministers from the world's top industrial powers called Monday for more effort to halve greenhouse gas emissions by 2050, but little headway was seen in setting more immediate goals.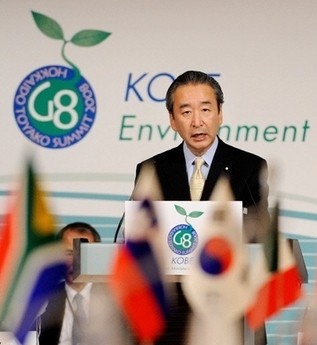 Japanese Environment Minister Ichiro Kamoshita delivers a speech at the G8 meeting in Kobe on May 25. (AFP Photo)
Ministers from the Group of Eight held three days of talks here in a bid to set the tone for a summit involving the G8 leaders, which opens July 7 in the northern Japanese resort of Toyako and is expected to focus on climate change.
The ministers in a statement said they hoped the summit would "go beyond" the agreement set by last year's talks in Germany to "seriously consider" halving the world's output of greenhouse gases by 2050.
But to the dismay of some the talks in Kobe did not signal a direction on the more immediate goal -- coming up with commitments on slashing greenhouse gas emissions once the Kyoto Protocol's obligations expire in 2012.
More than 180 countries agreed in December on the Indonesian island of Bali to reach a post-Kyoto deal at a conference in late 2009 in Copenhagen.
UN scientists who shared last year's Nobel Peace Prize warned that unless human-made climate change is halted, the world risks a growing number of natural disasters and droughts, putting millions of people at risk and threatening the extinction of some animals and plants.
UN climate chief Yvo de Boer, in an interview with AFP last week, said that the United States and Japan have focused too much on fixing long-range objectives for 2050 and industry-by-industry goals.
"If you are a businessman planning an investment, you probably want to know more about where governments intend to go in 2020 rather than the middle of the century," de Boer said.
Naoyuki Yamagishi, WWF climate change programme leader, criticised the Kobe meeting's outcome as insufficient.
"There was speculation that advanced nations might reach an agreement to go one step forward from the summit last year," he said. "But they only stated 'strong political will' to tackle the problem, a very ambiguous expression."
Japan, which is far behind in meeting its commitments under the Kyoto Protocol, hopes to use the G8 summit to shape a new treaty on global warming.
It has pushed for a so-called "sectoral" approach in which standards are set for each industry. The idea has met resistance from some developing nations, which see it as a bid to force them to adopt costly new technology.
In a possible sign of a softening in Japan's position, the final statement said that "sectoral approaches would be used to set national targets, not as a substitute for them."
Yamagishi said it was one of few positive developments at the G8 ministers' meeting.
"Environmentalists were concerned the Japanese approach may not be enough to lead to emission cuts required to save the earth," he said.
The European Union has proposed mandatory cuts in greenhouse gas emissions by 25 to 40 percent by 2020 from 1990 levels. The United States -- the only major industrial country to reject Kyoto -- as well as Japan and Canada have not embraced a number for the mid-term period.
Climate negotiations are expected to gather steam next year when a new US president is in office. All major candidates to succeed George W. Bush have called for tougher US action on global warming.