The Obama administration needs to decide on a war strategy for Afghanistan without waiting for a government there to be widely accepted as legitimate, Defense Secretary Robert Gates said Monday.
Gates' comments put him at odds with top White House and NATO officials who are balking at ordering more troops and other resources to Afghanistan until the disputed election crisis there is resolved.
The Pentagon chief called the Afghan elections — and the larger issues of curbing corruption in its government — "an evolving process."
"We're not just going to sit on our hands, waiting for the outcome of this election and for the emergence of a government in Kabul," he told reporters en route to Tokyo.
"The outcome of the elections and the problems with the elections have complicated the situation for us. But the reality is, it's not going to be complicated one day and simple the next," he said. "We're going to have to work with this going forward, and I believe the president will have to make his decisions in the context of that evolutionary process."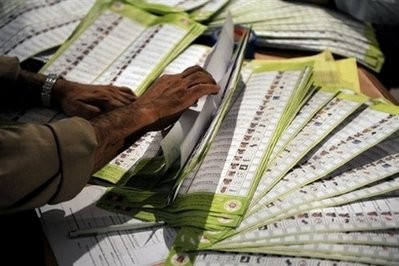 A worker from the Afghan Election Commission audits and recount ballots at the Independent Elections Commission in Kabul.
Gates did not say whether he believed that a runoff between Afghanistan President Hamid Karzai and main challenger Abdullah Abdullah was inevitable. U.N.-backed fraud investigators have thrown out nearly a third of Karzai's ballots from the August election, setting the stage for a runoff.
A runoff likely would prompt political unrest and further delay assured help by the Afghan government to battle the Taliban.
Gates also raised the possibility that Abdullah would not demand a runoff, saying the issue ultimately may be settled by internal political deals. "They basically have to sort it through themselves," he said.
Karzai was expected to outline his future plans on Tuesday, Secretary of State Hillary Rodham Clinton said in Washington.
For weeks, the Obama administration has grappled with whether to send as many as 80,000 additional U.S. troops to fight the Taliban in Afghanistan or use missile-carrying spy planes and covert military missions to focus more narrowly on al-Qaida leaders who are believed to be hiding in Pakistan.
In separate comments over the last two days, White House chief of staff Rahm Emanuel and NATO Secretary-General Anders Fogh Rasmussen each said no decision on the future of the war strategy should be made until the legitimacy of the Afghanistan government is assured.
Gates said Obama was nearing a decision on the strategy.
The Pentagon chief was headed to Japan and South Korea where he planned discuss support for the war in Afghanistan with leaders there. He was to attend a meeting of NATO defense ministers in Bratislava, Slovakia, later in the week where Afghanistan would be a top topic.
"This is an alliance issue," he said. "It should not be looked upon as exclusively the responsibility of the United States to respond."