GAZA CITY, Jan 19, 2009 (AFP) - Gaza was enjoying a second night of calm on Monday as Israeli troops began withdrawing after their deadly 22-day onslaught in the battered territory was halted by a fragile ceasefire deal.
As the Islamist Hamas movement and other militant groups also announced a week-long truce of their own, the guns on both sides fell silent giving Gaza's traumatized population a second night of relative peace.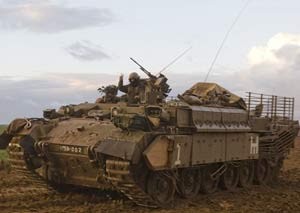 An Israeli soldier onboard an APC as forces begin returning on January 18, 2009 (Photo: AFP)
Israel has said it wants to leave Gaza as quickly as possible after its deadliest-ever offensive there which reduced much of the enclave to ruins -- a devastating war in which Hamas leader Ismail Haniya claimed a "great victory".
"God has granted us a great victory, not for one faction, or party, or area, but for our entire people," said Haniya, Hamas' prime minister, in a televised address.
"We have stopped the aggression and the enemy has failed to achieve any of its goals," he added.
French President Nicolas Sarkozy hailed Israel's ceasefire but said it was "only a first step" and must go further.
"We should immediately convene a major international conference which would allow us to establish peace this year," Sarkozy said.
British Prime Minister Gordon Brown urged Israel to reopen the crossings to long-blockaded Gaza, saying a sustainable ceasefire would require "humanitarian access" to the territory.
Israel's decision to call a unilateral ceasefire in its war on Hamas came about after it won pledges from Washington and Cairo to help prevent arms smuggling into the Gaza Strip -- a task in which Europe has also pledged to help.
Top leaders from Britain, France, Germany, Italy and the Czech Republic, which holds the rotating EU presidency, attended a dinner in Jerusalem with Israeli Prime Minister Ehud Olmert late on Sunday after earlier participating in a summit in Egypt aimed at shoring up the truce.
A senior Israeli official said Olmert had thanked them for their support for Israel's concerns and had urged them to make good on pledges to halt the flow of arms into Gaza.
"He urged them to follow through their commitments on smuggling and efforts to stop the rearmament of Hamas," the official said.
Egypt held separate talks with Hamas, and President Hosni Mubarak announced plans to host an international aid conference to help rebuild Gaza.
Cairo has also invited Israeli and Palestinian officials for separate meetings on Thursday to discuss an Egyptian initiative for an extended truce, state news agency MENA reported.
It was not immediately clear whether the invitation had been accepted to the talks which are aimed at "taking the necessary steps to stabilize the ceasefire in the Gaza Strip" and ending the siege of Gaza, a foreign ministry official told MENA.
After exchanges of gunfire and an air strike punctured what Olmert acknowledged was a "fragile" unilateral ceasefire, Hamas and other militant groups announced a one-week truce of their own.
"(We) demand that enemy forces withdraw in a week and open all the border crossings to permit the entry of humanitarian aid and basic goods," Mussa Abu Marzuk, deputy leader of Hamas's politburo, said in Damascus.
The military confirmed troop withdrawals had begun after witnesses in Gaza City saw troops pulling back towards the border fence.
Olmert on Saturday ordered an end to the Gaza offensive but warned troops would return fire if attacked.
After the ceasefire came into effect at 2:00 am (0000 GMT), Gaza enjoyed its first bomb-free night in more than three weeks, although militants launched around 18 rockets into Israel and on Sunday, Israel hit back with airstrikes.
Medics took advantage of the ceasefire to comb areas which had been inaccessible, pulling at least 95 bodies from the rubble, including those of several children.
The discoveries brought the overall death toll since Israel launched Operation Cast Lead on December 27 to more than 1,300, medics said.
On the ground, residents cautiously ventured out onto the streets.
"Everything has been completely destroyed," said Yahia Karin, 54, in Zeitun, a Gaza City neighborhood ravaged by furious battles between Israeli ground troops and Hamas militants.
Palestinian president Mahmud Abbas repeated his call for a complete Israeli withdrawal from Gaza and the reopening of the enclave's border crossings.
Israel and Egypt have sealed Gaza off from all but vital humanitarian aid since Hamas seized power there in June 2007.