Anyone venturing far from Gaza's shore risks not only gunfire but also blackmail as Israeli warships trawl the besieged Palestinian territory's waters for informers, fishermen say.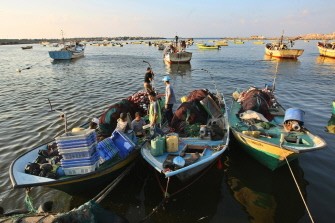 Palestinian fishermen prepare their nets before setting sail at the port in Gaza City in August 9, 2009. (AFP Photo)
The Al-Mezan human rights group says it has documented the arrests at sea of hundreds of fishermen who faced pressure to work for Israeli authorities. Local fishermen gave similar accounts to AFP.
Ramadan al-Sultan, who has been fishing the Mediterranean waters off Gaza for 20 years, says he was seized last year and taken to Israel, where an officer tried to recruit him as a spy.
"First he offered me money and told me I'm an OK guy, that I have no problems with Israel, no ties with Hamas or other terrorist groups.
"Then he threatened me and said I would be banned from fishing if I didn't collaborate, but I refused," he says, sitting on the shore in northern Gaza with other fishermen.
An Israeli military spokesman declined to comment on the allegations, saying only that the navy is responsible for maintaining a blockade of the territory and that it acts "in accordance with international rules."
On Monday Israeli sailors fired at fishing boats off Gaza, causing one to burst into flames. There were no casualties, and a military spokeswoman said the boats had ignored warning shots and orders to turn back.
Israeli officials rarely speak about the network of Palestinian informants, believed to number in the thousands, to help security forces break up cells, foil attacks and kill senior fighters.
The subject is also a sensitive one for Palestinians. Since the outbreak of the latest uprising in 2000 militants have executed scores of suspected informants, whom they view as collaborators guilty of treason.
The fishermen said Israel is after information about the Islamist Hamas movement -- which seized power in Gaza in June 2007 -- and other militant factions that have carried out attacks on the Jewish state.
Ramadan's cousin, Hassan al-Sultan, 37, says he became a fisherman after losing his job as a result of the virtual blockade Israel has imposed on the narrow coastal strip since the Hamas takeover.
"We had just cast our nets when Israeli patrol boats headed towards us," he says, recalling the day when he, his cousin and several others were captured.
"The Israelis told us to row towards the north until we reached an area where we're not allowed to fish and used that as a pretext to arrest us," says Sultan, a father of four.
"They shot next to our boat and forced us to get undressed and swim towards a big navy ship. They made us come aboard, handcuffed and blindfolded us before taking us to the (Israeli) port of Ashdod."
There, he says, two officers and a soldier interrogated him and offered to buy him a new boat in exchange for information about Hamas.
"I told them I didn't want their money and wouldn't collaborate whatever they do."
Ishaq Zayed has a similar story, and says the Israelis offered to pay for his son's wedding and allow him to fish wherever he wants.
Fahmi Abu Yassin, 19, who was arrested at sea in March, says he was scared to turn down a similar offer outright. "I finally told the officer: 'If I collaborate with you, they'll kill me in Gaza'."
Arab-Israeli lawyer Mohammed Jabarin, who represents Gaza fishermen arrested by Israeli authorities, says that forcing the men to take their clothes off after shots are fired in their direction amounts to psychological pressure.
"They are generally released less than 24 hours after their arrest to avoid having to bring them before a court." As a result, the fishermen are denied the opportunity to complain to a judge about their treatment, Jabarin says.
Before the embargo, some 3,500 fishermen plied their trade off Gaza's 40-kilometre (25-mile) Mediterranean coastline, with around 30,000 people relying on the fishing industry.
Now, the fishermen risk Israeli gunfire for what they say are pitiful catches.
As part of its blockade Israel does not allow fishermen to venture more than five kilometres (three miles) offshore, even though a 2002 agreement between Israel and the Palestinian Authority set the boundary at 22 kilometres (13.5 miles).