GAZA CITY, Jan 3, 2009 (AFP) - Sewage runs in the streets of Gaza, the price of bread has tripled in a week, doctors dread carrying out operations as power fails without warning and they never know whether there will be anesthesia.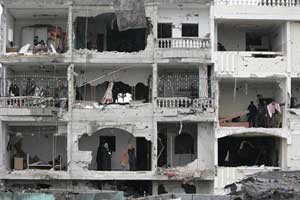 New Year's Day in Rafah (Photo: AFP)
Aid workers, residents and medical staff paint a grim picture of the fight to survive as Israeli warplanes pound the Palestinian enclave daily with missiles and the population lives in fear of an invasion at any moment.
Max Gaylard, the UN humanitarian coordinator for the Palestinian territories, said on Friday "there is a critical emergency in the Gaza Strip right now... By any definition this is a humanitarian crisis and more.
"Schools are closed, the population is staying home, Gaza is experiencing a food crisis ... hospitals and clinics are absolutely overwhelmed," he said.
"There probably is an airstrike every 20 minutes on average, probably intensifying at night," Gaylard said, adding that rockets fired at Israel by Gaza militants "are indiscriminate and expanding in range."
Most houses only get water for one or two hours every five days and electricity is even rarer as Gaza's only power plant has no fuel.
UN agencies say there is no food in the markets.
"It is desperate now, the pipes were blown up and there is waste everywhere in the streets -- human, animal, chemical. There was a funeral today and they had to carry the body through that disgusting stench in the street," Beit Hanoun resident Hatem al-Aynun told AFP.
Beit Hanoun is a town of more than 20,000 people close to the frontier where the Israeli army is now massed. It has been the target of repeated Israeli attacks, which Israel says is due to so many rockets being fired from the area.
According to a daily UN report released on Friday, the main sewage and water pipeline at Beit Hanoun had been hit five times in the previous 48 hours and seven water wells have been "seriously damaged and cannot be repaired due to the bombardments."
The water crisis is felt across Gaza as is the lack of food for the 1.5 million people.
The World Food Programme estimates that 80 percent of the population are now dependent on food handouts and the figure rises every day as shortages of flour, rice, sugar, milk, canned foods and fresh meat grow worse.
"The current situation in Gaza is appalling," the WFP representative for the territory, Christine van Nieuwenhuyse, said in a statement.
Fewer than 20 bakeries now operate across the territory which has no flour or gas for cooking.
Aid workers say some shop owners are hiding provisions because of the prospect of even greater shortages after any Israeli invasion. Hamas police tour many areas warning store owners not to hide food or increase prices, they said.
Some people pay three times the normal price for bread, up to 25 shekels (six dollars), Oxfam worker Mohamed Ali told AFP. "A lot of people do not eat every day."
"You can queue for up to three hours to get bread, but if the flour has run out people leave with nothing," said Parek Babra, who works for Relief International, an aid group that distributes medical equipment and other crucial supplies.
"Many people are now storing food; tins, oil, anything in case there is an invasion though personally I don't believe it will happen," he said.
"There has not been any cooking gas for two months. If you get it on the black market it costs 10 times the normal price."
The half dozen hospitals in Gaza cannot cope with more patients and casualties are overflowing out of regular wards into corridors.
At the main Shifa hospital in Gaza City, there are power cuts of at least 20 hours each day. Operating theatres rely on back-up generators.
"They break down and while extra drugs and medicines have arrived in recent days there is still not enough anesthesia," said one Shifa doctor, speaking on condition of anonymity.
UN agencies estimate that 1,000 medical machines have broken down in Gaza hospitals because of the Israeli blockade of the past 18 months and the conflict of the past week.
Cooking gas in hospitals is expected to run out in the next three days and the WFP and other agencies are now distributing high protein biscuits and canned meat to feed patients.
Summing up the desperation of Gaza's people, Babra of Relief International said: "We have nothing; we need everything."