Kamal Awaja's family is still living in a tent on the rubble of their home one year after Israel's winter war on Gaza, but now they have electricity, running water and wireless Internet.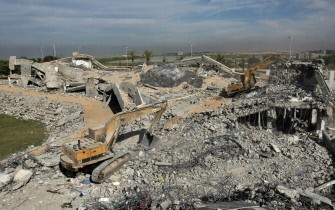 Bulldozers clear the rubble of the destroyed American School in Beit Lahia in the northern Gaza Strip on December 15, 2009. (AFP Photo)
And a few miles (kilometres) away the Sawafieri family is raising chickens by hand a year after Israeli bulldozers crushed tens of thousands of birds in their cages when they methodically destroyed the fully-automated farm.
A cold calm has largely prevailed along Gaza's borders since the end of the massive three-week offensive that Israel launched on December 27, 2008 aimed at halting rocket fire from the Palestinian territory ruled by the Islamist Hamas movement.
But the hardline group remains firmly in control despite two-and-a-half years of strict Israeli sanctions, and the sparse reconstruction that has taken place is mostly an improvised reordering of the rubble left by the onslaught.
A year ago the Awajas were trapped behind the front lines when ground troops backed by tanks and aircraft stormed into northern Gaza in what would prove to be the deadliest Israeli offensive ever launched on the coastal territory.
Awaja and his wife were wounded as they tried to flee and it was four days before they were able to get to a hospital, he says.
Their eight-year-old son Ibrahim was shot dead as their home was destroyed.
Now the smiling boy with curly black hair stares down from memorial posters hanging on the family's tent, which has been cobbled together from canvas shelters donated by aid groups, dingy plastic tarps and wool blankets.
Israel has sealed Gaza off from all but vital humanitarian aid since Hamas seized power in June 2007.
The limited amount of cement and iron smuggled in through tunnels from Egypt is beyond the financial means of the vast majority of the territory's 1.5 million residents, most of whom rely on foreign aid.
Some 6,400 homes were severely damaged or destroyed during the war, according to UN figures. Most of those who lost homes now share crowded apartments with relatives or huddle under tents supplied by aid groups.
Awaja, who still collects a salary from the Palestinian Authority in the occupied West Bank, connected the tent to an electricity grid and purchased an array of home appliances smuggled in through the tunnels.
His surviving children surf the Internet with Israeli wireless cards.
"We couldn't live in this hell forever, we had to do whatever we could to raise our standard of living," explains Awaja, who says he was well-off before the war. "Can you imagine a house in 2009 without television and the Internet?"
The new comforts have brought new challenges, like the large packs of feral dogs that try to rummage through the kitchen at night.
"You don't have anything if you don't have a house," Awaja says. "You don't have any security."
The Sawafieri family has also begun rebuilding, using a 10,000-dollar (6,800-euro) grant from the Hamas-run agricultural ministry to build a ramshackle warehouse and assemble new cages to hold some 5,000 chickens.
But the structure erected with scrap metal and torn canvas is a far cry from the modern farm where they raised some 31,000 birds on the eve of the war.
"It was all automatic, you just turned the switch on," says Mahmud Sawafieri, 24, pointing to the crushed 20-tonne silos rusting outside the warehouse.
Israel scored an overwhelming military victory in the war, during which some 1,400 Palestinians and 13 Israelis were killed.
Since the fighting was halted by unilateral ceasefires on January 18, Hamas has not only halted its own rockets but used force to prevent smaller, more radical groups from firing on Israel.
Around 275 rockets and mortar rounds have been fired at Israel since the ceasefire, compared to 3,056 in the year before the war, according to the Israeli military, a drop of more than 90 percent.
"Operation Cast Lead achieved its goal, which was to restore Israel's deterrence ability," opposition leader Tzipi Livni, who served as foreign minister during the war, said last week.
However, Israel continues to face international condemnation of its actions during the war, including a UN Human Rights Council report that accuses both it and Palestinian militants of war crimes.
The report authored by the respected South African jurist Richard Goldstone documented dozens of cases of alleged war crimes -- including the methodical destruction of the Sawafieri farm -- but has been rejected as biased by Israel.
Hamas, meanwhile, remains as firmly in control of Gaza as it was before the war and as dead-set against any recognition of Israel. The group insists there is no truce, only a strategic decision to temporarily halt the rockets.
"The resistance agenda has to support the political agenda," Hamas spokesman Fawzi Barhum said.
"The occupation stopped firing rockets at Gaza, and Hamas and the other factions reached an understanding about how and when to fire rockets. If there is another Israeli incursion, we will fire them again."