Israeli troops kept up their assault on Hamas fighters in Gaza on Wednesday as diplomats sought to persuade Israel to end an onslaught that has killed at least 660 Palestinians
An air strike killed a Palestinian gunman and wounded three in Gaza City's Zeitun neighbourhood, where some of the heaviest fighting has occurred since Israeli troops invaded the crowded coastal strip on Saturday, medics said.
Clashes were continuing in Zeitun, and there were reports of air strikes on the southern cities of Khan Yunis and Rafah.
The latest fighting followed Israeli strikes on Tuesday on three UN-run schools that killed at least 48 people, taking the civilian death toll even higher and prompting growing calls for an immediate ceasefire.
UN chief Ban Ki-moon said he was "deeply dismayed" by the strikes on the schools and called them "totally unacceptable."
Egypt's president and veteran Middle East peace mediator, Hosni Mubarak, was pushing for an immediate ceasefire.
French Foreign Minister Bernard Kouchner said Mubarak had invited Israeli Prime Minister Ehud Olmert for talks on his proposal in Cairo on Wednesday.
"I know that there is already for tomorrow a technical group from both countries ready to work," Kouchner said. "So we are waiting for the answer."
After talks with French President Nicolas Sarkozy on Tuesday, Mubarak invited the Israelis and Palestinians to "an urgent meeting to reach arrangements and guarantees that would not allow the repeat of the current escalation."
Such guarantees would include "securing the borders and ... opening of the border crossings and lifting the siege."
Mubarak said he was also proposing an immediate ceasefire that would allow aid to enter the Gaza Strip.
Sarkozy, whose country currently holds the UN Security Council presidency, said a resolution on Gaza would "complicate" the task of achieving peace.
Even so, Libya later submitted a new draft resolution demanding an immediate and permanent ceasefire to be respected by both parties.
The text calls for an Israeli withdrawal, the immediate lifting of the Israeli blockade on Gaza, the reopening of Gaza's border crossings with Israel and Egypt and the deployment of an international monitoring force.
But Kouchner said the focus should now be on the Mubarak proposal.
"The Security Council must back and encourage these promising efforts," he said. "All regional states must support this movement and seek to foster moderation and restraint."
A Hamas delegation was already in Cairo for talks on the crisis.
Egypt brokered a six-month truce that ended on December 19. Hamas refused to renew the deal, accusing Israel of reneging on it by not relaxing the crippling blockade of Gaza it first imposed when the Islamists seized control of the territory in 2007.
Olmert earlier said the rocket attacks and weapons smuggling from Egypt into Gaza must end before Israel halts its offensive.
"Let the terrorist acts stop, halt the arms smuggling from (Egyptian) Sinai into Gaza and the Israeli combat will stop," Olmert said.
Ban said he would travel to Israel and the occupied Palestinian territories next week.
However, he said "I do not believe we can wait until then to end the violence. We must achieve that now."
Speaking to the Security Council, Palestinian president Mahmud Abbas urged it to call for a halt to Israeli "aggression" and the "unjust siege" of Gaza.
Protests against Israel have spiralled worldwide.
Al-Qaeda number two Ayman al-Zawahiri called on Muslims to attack Israeli and Western targets in revenge for the offensive while Venezuela expelled Israel's ambassador.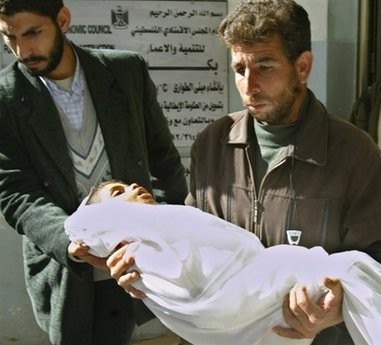 A Palestinian father carries the body his five-year-old son killed by Israeli fire in Khan Yunis refugee camp in the southern Gaza Strip.
Israel launched Operation Cast Lead on December 27 with a massive air bombardment of Gaza, and sent in thousands of ground troops a week later.
Since then, 660 Palestinians have been killed, including about 200 children, with more than 2,950 wounded, Gaza medics say.
There has been mounting international concern about the welfare of the 1.5 million people who live in the Gaza Strip, one of the world's most densely populated territories.
Israel has denied there is a humanitarian crisis, but Olmert's office announced that the Jewish state would open a "humanitarian corridor" into the territory.
"This involves opening up geographical areas for limited periods of time during which the population will be able to receive the aid and stock up," his office said.
International Committee of the Red Cross operations director Pierre Kraehenbuehl said: "There is no doubt in my mind that we are dealing with a full-blown and major crisis in humanitarian terms. The situation for the people in Gaza is extreme and traumatic."