Gazans who lost loved ones during Israel's winter offensive against Hamas militants said Wednesday they're taking some solace from a U.N. report that accuses both sides of committing war crimes, but they're skeptical anyone will be brought to justice.
In Israel, the findings of the U.N. team sparked outrage and deepened a sense that the Jewish state is being treated unfairly by the international community.
While the U.N. investigation labeled Hamas rocket attacks on Israeli towns as war crimes, the bulk of the findings focused on Israeli actions during the three-week war.
The report echoed findings in a string of human rights reports released in recent months, but it could carry more weight, both because it was authored by a widely respected former war crimes prosecutor, Richard Goldstone, and because at least in theory it opens the way to charges against Israel before the International Criminal Court.
For technical and political reasons, however, putting Israelis or Palestinians on trial would be difficult under the present system of international justice.
Both Israel and Gaza's Hamas rulers rejected the U.N. team's allegations. Israel's government rebuffed the report's call for an independent inquiry and immediately began a diplomatic offensive to block any attempt to bring its soldiers before the Netherlands-based court.
Israel is not a member of the tribunal, so to prosecute Israeli officials, the court would need an order from the U.N. Security Council. The U.S., Israel's staunchest ally, would likely block such a request.
In Washington, State Department spokesman Ian Kelly said Wednesday that Goldstone's mandate from the U.N. Human Rights Council was "one-sided," adding that "at an initial reading we have concerns about some of the report's recommendations."
The self-rule government of Palestinian President Mahmoud Abbas, Hamas' main political rival, has sought ICC membership, but the court has not ruled on its request. Normally, membership is only open to states, and Israel argues the Palestinian request is invalid. If the court were to accept the Palestinian membership, it could prosecute Israelis and Hamas members over the Gaza fighting without a Security Council order.
The ICC prosecutors office said Wednesday it was "examining all issues related to its jurisdiction" in the Gaza case, including the validity of the Palestinian membership.
Some 1,400 Palestinians, including hundreds of civilians, were killed in the December-January offensive, which sought to stop rocket fire by Gaza militants on southern Israeli towns. Thirteen Israelis also died, including four civilians.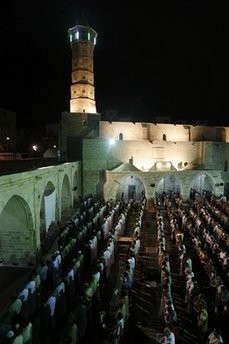 Palestinian Muslim worshippers pray during Lilat al-Qader, also known as the Night of Power in a mosque in Gaza City, early Thursday, Sept. 17, 2009.
Goldstone's 575-page report said Israel used disproportionate firepower and failed to avoid civilian deaths.
The report also criticized Israel for deliberately destroying nonmilitary targets, citing a flour mill, a chicken farm and water pumps. It said Israel's wider policies toward Gaza over the last two years, including a border blockade imposed after the 2007 Hamas takeover of the territory, "might justify" a court finding of crimes against humanity.
The report also condemned the firing of thousands of rockets by Gaza militants at southern Israel, killing some two dozen Israelis since 2001. These cause psychological trauma, and firing them at civilians "would constitute war crimes and may amount to crimes against humanity," the report said.
The report detailed some of the war's most shocking cases, including that of the Samounis, a clan that lives in a semi-rural area in eastern Gaza City, close to the border with Israel. During Israel's ground offensive, which began in the second week of the war, some two dozen Samounis were killed.
Family members have said that at one point, about 100 of their relatives were herded into a building that was later shelled. Goldstone's report said Israeli forces also prevented ambulances from reaching the area. Israel denies the account, but says the house may have been hit in crossfire with militants.
Arafat Samouni, 36, welcomed the report Wednesday but hoped for more.
"Unfortunately, it's just a condemnation. We want follow-though," he said. "We want them to try the soldiers and officers who committed these crimes."
Many of his relatives' homes and farms remain in ruins, and he said they'd like compensation, though they doubt they'll get it. Still, he hoped the report would make some difference.
"A condemnation is like a drop in the ocean," he said. "We want at least a glass of water."
In Sderot, the Israeli town hardest hit by rocket fire, resident Shula Sasson said the U.N. drew the wrong conclusion.
"We feel that we are in a war for eight years already," said Sasson, whose family built a makeshift shelter in their living room. "Eight years was enough."
The report provoked furor in Israel, whose Foreign Ministry said it was "appalled and disappointed." Radio stations devoted heavy chunks of air time to interviews with outraged officials and critical legal experts. "Classic Anti-Semitism," blared the headline of an opinion piece in the Israel Hayom daily.
Israeli President Shimon Peres said the Goldstone report "makes a mockery of history" and "draws no distinction between the attacker and the attacked."
In Gaza, Hamas' prime minister, Ismail Haniyeh, called on the U.N. to charge Israeli leaders with war crimes. At the same time, he rejected the accusations against his group. "The Palestinian people acted in self-defense," he said.
In preparing the report, U.N. investigators visited Gaza twice. They said they conducted 188 interviews and sifted through 10,000 pages of documents. Since Israel refused to cooperate, the team could not conduct investigations in Israel, but it interviewed Israelis — including ones from southern Israel — by telephone or video link.
Residents of southern Israel felt the report slighted their suffering and downplayed Hamas rocket fire.
"The result today shows that we had no effect on the U.N. judges, and it was no surprise, and we did what was right by presenting this side of the story," said Noam Bedein of the Sderot Media Center, who traveled to Geneva to meet with the commission.
In Gaza, Khaled Abed Rabbo, 31, whose story was detailed in the report, said he hoped justice would be served.
Abed Rabbo said that during the war he watched an Israeli soldier shoot his mother and three daughters, leaving two of them dead. His mother is still being treated in Gaza, and his remaining daughter is paralyzed and has been in treatment in Belgium for nine months, he said. The Israeli military denies its soldiers targeted civilians.
"Someone like me has nothing left but hope," he said, standing before the rubble of his home, which was flattened during the war. "We hope that in the end justice will be served and the criminals will be punished," he said. "And I hope I can see my daughter again."