PARIS, April 7, 2011 (AFP) - Besieged Ivory Coast strongman Laurent Gbagbo has "less than 1,000 men" in the main city Abidjan, including around 200 at his residence, French Defence Minister Gerard Longuet said on Thursday.
Forces loyal to Gbagbo and his rival Alassane Ouattara are battling it out in Abidjan, with peacekeepers from the United Nations mission in Ivory Coast (UNOCI) and France's Licorne (Unicorn) mission intervening to protect civilians.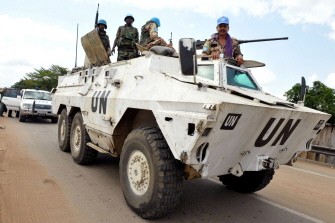 AFP - A picture released by the United Nations Photo Service shows UN peacekeepers of the Pakistani contingent patrolling in Abidjan's Abobo district on March 31, 2011.
"In Abidjan, UNOCI has around 2,250 men, out of a total 10,000 in Ivory Coast. France has increased Licorne to 1,700, president Ouattara's tactical groups are around 2,000 men," Longuet told lawmakers.
"Today, at the moment, former president Gbagbo's forces are reportedly a bit less than 1,000, including 200 at his residence," he said.