Georgia's billionaire-led opposition on Tuesday led President Mikheil Saakashvili's long-dominant ruling party in early results from hard-fought parliamentary polls, the election commission said.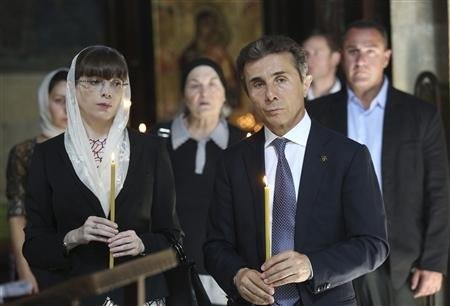 Leader of the opposition Georgian Dream coalition Bidzina Ivanishvili (R) and his wife Eka Khvedelidze attend a religious service in Tbilisi, October 1, 2012.
The early tallies showed billionaire Bidzina Ivanishvili's Georgian Dream coalition leading the ruling United National Movement by 52.77 to 42.08 percent after 15.35 percent of electoral precincts declared results in the proportional ballot that will decide 77 of the 150 parliamentary seats.
No complete results have so far been declared in the 73 first-past-the post seats that make up the remainder of the parliament.
Ivanishvili declared victory immediately after several exit polls suggested that his coalition was either ahead or running neck-and-neck with the ruling party in the proportional-vote section of Monday's contest.
But his coalition could still lose because almost half of parliamentary seats are decided on a first-past-the-post basis rather than the proportional representation system that provided the basis for the exit polls.
Thousands of jubilant opposition supporters celebrated in Tbilisi's central Freedom Square after the exit polls were announced, cheering and shouting: "Long live Georgia!"
Cars full of more euphoric supporters raced up and down the capital's main street, sounding their horns, whistling and waving flags.
"I was not expecting this. I'm sure everything will change for the best," one woman in the noisy crowd, Maya Asanidze, told AFP.
Before the torture scandal sparked by revelations of the brutal beating and rape of male prison inmates erupted last month, most opinion polls gave the ruling party a significant lead, but the outrage seriously damaged its campaign.
Ivanishvili, who made his fortune through privatisation deals in Russia, threatened to call mass demonstrations should Western observers fail to declare the vote fair.
In a controversial move that troubled the West, the tycoon was stripped of his Georgian citizenship after announcing last year that he would challenge Saakashvili, and is currently a French citizen.
He symbolically did not vote on Monday despite constitutional amendments earlier this year that allowed him to do so.
The highly-polarised campaign in the small Caucasus republic of 4.5 million people was described by international OSCE election monitors as "confrontational and rough".
Georgia's main backers, the United States and European Union, called for a fair vote and emphasised that democratic progress was crucial for the Caucasus state's ambitions to join Western institutions such as NATO.
The polls were a "litmus test of the way democracy works in Georgia", NATO Secretary-General Anders Fogh Rasmussen said Monday.
Saakashvili's party controlled 119 of the 150 seats in the outgoing parliament and has dominated Georgia since the charismatic lawyer rose to power after the "Rose Revolution" that ousted the country's former leader, ex-Soviet foreign minister Eduard Shevardnadze.
The elections are crucial for Georgia's future because its parliament and prime minister will become stronger and the presidency's powers will dwindle under constitutional changes that come into force after Saakashvili's two-term rule ends in 2013.
Since post-Soviet independence, Georgia has gone through economic collapse, civil war and repeated outbreaks of political unrest that have seen two presidents deposed, as well as a five-day war with arch-foe Russia in 2008.