Georgia's opposition offered to hold talks with President Mikheil Saakashvili Thursday after clashes between police and protesters raised fears of unrest around controversial NATO exercises.
The clashes late Wednesday -- the first major outbreak of violence since opposition protests against Saakashvili began a month ago -- came only a day after Georgia said it had peacefully put down a mutiny.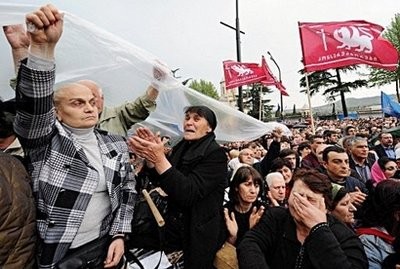 Georgian opposition supporters take part in a rally near the parliament building in Tbilisi.
They erupted the same day NATO launched month-long military exercises that have infuriated Russia and strained the alliance's ties with Moscow.
"We are ready to sit down, but to sit down with one person, Mikheil Saakashvili," opposition leader Salome Zurabishvili said at a press conference with other protest organisers.
"We think there is only one way, it's for this person to leave and to have presidential and parliamentary elections. If he knows any other way of getting out of the political crisis he should let us know," she added.
The opposition made the statement after meeting with foreign ambassadors, some of whom accused protesters of having sparked the clashes by attacking a police station.
"This attack... was a criminal act, absolutely intolerable in a democratic society and it must be condemned," said Czech ambassador Ivan Jestrab, whose country holds the rotating EU presidency.
Officials accused opposition supporters of trying to storm a main police station and said police had used truncheons to repel protesters trying to climb a fence around the building.
The opposition said police had attacked protesters and fired rubber bullets, which officials denied.
Police said 29 people were lightly injured in the clashes, including six officers.
In an apparent bid to cool the situation, officials released three detained opposition activists on bail following an appeal by the Georgian Orthodox Church.
The clashes broke out after protesters had gathered at the police station to demand the release of the activists, who had been arrested for allegedly assaulting a television journalist.
A few thousand protesters gathered in the afternoon outside Georgia's parliament building in central Tbilisi, where the opposition had set up dozens of mock jail cells, and blocked the main street, Rustaveli Avenue.
Georgia and NATO on Wednesday kicked off the military exercises involving at least 1,100 soldiers from more than a dozen NATO countries and partners.
Russia fiercely objects to Georgia hosting the exercises and is also opposed to Georgia's bid to join the alliance.
Tbilisi initially accused Russia of backing an armed coup in Tuesday's mutiny -- an accusation Moscow described as "insane."
NATO will not cancel the exercise, Alliance Secretary General Jaap de Hoop Scheffer said.
"It was prepared long ago in full transparency with the Russians," he said during a visit to Slovenia Thursday.
In Washington, both US Secretary of State Hillary Clinton and Russian counterpart Sergei Lavrov said Thursday that tensions over Georgia would not affect their talks to replace a nuclear arms control treaty.
Clinton said any link between the two issues amounted to "old thinking," while Lavrov said arms reduction was too important to "make it hostage" to Moscow's dispute with Tbilisi.
Russia, which fought a brief war with Georgia in August over the rebel South Ossetia region, earlier this week announced the expulsion of two Canadian diplomats working for NATO in Moscow.
Security talks between Georgian, Russian and South Ossetian officials were also called off Thursday.
Numbers of protesters have dwindled since a peak of some 60,000 in the first days after demonstrations began on April 9.
Opponents accuse Saakashvili of having mishandled the five-day war and of having become increasingly autocratic since coming to power in 2003.