FRANKFURT, Sept 26, 2011 (AFP) - German business confidence deteriorated again this month, the Ifo economic research institute said on Monday, but the decline was not as steep as expected.
The monthly Ifo business climate index fell to 107.5 points in September from 108.7 points in August, while economists had been pencilling in a steeper decline to 106.5 points.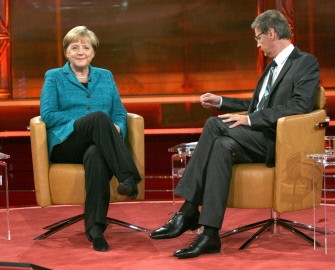 AFP - German Chancellor Angela Merkel sits during the recording of TV host Guenther Jauch's talk show in Berlin on September 25, 2011.
Nevertheless, the index is still at its lowest level since June 2010, when it stood at 106.4 points.
"The business climate index for German industry and trade declined once again in September," said Ifo chief Hans-Werner Sinn.
Nevertheless, while business expectations for the coming half year "deteriorated markedly ... the current business situation was assessed just as positively as in the previous month," Sinn said.
"The continuing favourable situation of companies shows that the German economy has so far managed to decouple from political turbulence."
A sub-index that measures company assessments of their current situation slipped only fractionally to 117.9 points from 118.1 points in August, while expectations for the six months to come dropped to 98 points from 100 points, hitting its lowest level since July 2009.