German exports plunged by 24.5 percent in May from the same month a year earlier, figures released by the national statistics office have shown.
On a monthly basis however, the leading European exporter posted a slight rise of 0.3 percent, and an overall seasonally-corrected trade surplus of 10.3 billion euros (14.3 billion dollars).
The uncorrected trade surplus was 9.6 billion euros, up from 9.4 billion euros in April and well above an analyst forecast compiled by Dow Jones Newswires of 8.8 billion.
Imports in May were 22.6 percent lower than a year earlier, and 2.1 percent lower than in April, Destatis said.
The German central bank, meanwhile, reported that Germany's current account balance of payments, the widest measure of trade with other countries, showed a surplus of 3.7 billion euros, less than half the May 2008 figure of 8.1 billion euros.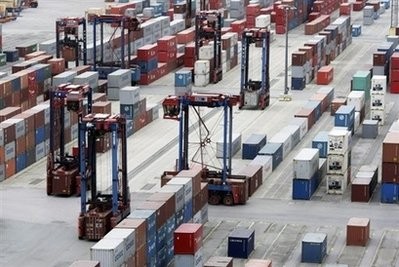 Cranes load containers at the Tollerort terminal in the northern German city of Hamburg in early June.
German companies have been slammed by the global economic slowdown, and Destatis said exports to other European Union countries were down by 25.4 percent on an annual basis, while imports fell by 22.1 percent.
Trade with non-EU countries also dropped sharply, with exports down by 23.0 percent and imports off by 23.3 percent.