German Finance Minister Wolfgang Schaeuble backs his French counterpart Christine Lagarde as the EU candidate to head the International Monetary Fund, a German weekly reported Saturday.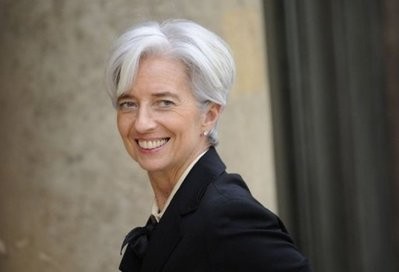 French Finance minister Christine Lagarde arrives at the Elysee Palace in Paris, as part of two-day meetings with G20 Finance ministers and central bank governor on May 18. (Photo: AFP)
"If Christine Lagarde decided to be a candidate, Europe would have the best chance of occupying this position again," Schaeuble told the Bild am Sonntag in an interview to be published Sunday, the weekly said in a communique.
He said Lagarde, widely touted as the European favourite to replace her compatriot Dominique Strauss-Kahn, now fighting sexual assault charges, was "perfectly appropriate" for the job. "She is respected and appreciated throughout the world of finance."
"It is essential now that Europe speak with a single voice on this matter," he added.
Chancellor Angela Merkel, while stopping short of endorsing Lagarde's candidacy, on Saturday praised her as an "excellent person" and a "very experienced candidate (with) broad support" in Europe.
Strauss-Kahn resigned on Thursday, five days after being arrested in New York on charges of sexually assaulting a hotel maid. He has protested his innocence.
Under a long-standing arrangement between Europe and the United States, a European has always held the top IMF job while an American leads its sister institution, the World Bank.
But emerging powers China and Brazil are calling for an end to the arrangement to give an opportunity to a candidate from a developing nation.
Lagarde, 55, already the first woman finance minister of a Group of Seven country, would become the first woman to head the IMF.
She is dogged by a judicial probe in France into whether she misused her authority as a minister by intervening in a banking scandal involving controversial tycoon Bernard Tapie.
Neverthless an EU source said Friday that Lagarde was "practically a shoo-in" as the EU's candidate in the succession scramble, with an EU announcement expected at the upcoming Group of Eight summit in Deauville, France.
Lagarde is also well-liked by the United States -- which controls 16.8 percent of the voting power on the IMF executive board.
The institution said Friday the nomination process would run from Monday until June 10, with the aim of completing the process by June 30.
Developing countries have not coalesced behind one individual. Names mentioned include Indian planner Montek Singh Ahluwalia; Mexican central banker Agustin Carstens; Trevor Manuel, South Africa's former finance minister; and Leszek Balcerowicz, the pioneer of Poland's transition from communism to the free market.