BERLIN, Sept 13, 2009 (AFP) - Germany's Foreign Minister Frank-Walter Steinmeier on Sunday said he has prepared a four-year plan to pave the way for the withdrawal of German troops from Afghanistan.
"The aim, over the course of the next parliament, is to lay the foundations for a withdrawal" of troops, he told Super Illu magazine.
A new four-year-term parliament will be elected on September 27.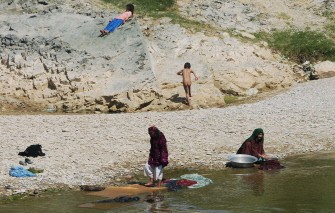 Afghan women wash carpets in a river in Chaghcharan city of Ghor province on September 13, 2009 (AFP photo)
In the interview the minister, who is running against incumbent Chancellor Angela Merkel, refused to specify when soldiers might actually be pulled out of Afghanistan.
"It wouldn't be prudent to inform terrorist forces of the precise year in which the last foreign soldier will have left Afghanistan," he said.
"We went and have stayed in Afghanistan to prevent terrorist attacks, including against ourselves," he said.
"But we don't want to stay forever," he added.
The four-year plan aims to set terms and conditions for Kabul to assume full government responsibility.
Talks will be held "to determine how long we and other international soldiers will have to stay, and how many more Afghan soldiers and policemen have to be trained to take full charge of security," Steinmeier said.
News of the plan emerged as Steinmeier prepared to go head-to-head with Merkel in a televised debate Sunday evening.
It also comes against a growing background of domestic opposition to the war.
An opinion poll released last week, amid controversy over a bombing raid ordered by German forces in northern Afghanistan, said 57 percent of Germans favoured an immediate withdrawal of troops from Afghanistan.
The air strike, which is being investigated by NATO forces, was called for after Taliban forces hijacked two fuel trucks near a German base. NATO has acknowledged that some victims were civilians.
Britain, France and Germany last week called for an international conference to be held by the end of the year to set new goals for Afghanistan.
"In association with our partners, we want to hammer out a strategy allowing for the handing over of responsibility to Afghanistan over five years," Merkel said in an interview published Saturday by the Sueddeutsche Zeitung newspaper.
It was not immediately clear why her timetable appeared to be longer than that set out by Steinmeier.
According to Spiegel magazine, Steinmeier's plan, worked out by the foreign ministry, includes 10 key points, among them boosting the training for Afghan police and troops, and establishing a special fund to allow "reinsertion of Taliban supporters into Afghan society".