BERLIN, April 3, 2011 (AFP) - German Foreign Minister Guido Westerwelle is expected to quit as leader of his ailing Free Democrats in a bid to shore up support for the party and the centre-right government, reports said Sunday.
Front-page headlines said the 49-year-old acknowledged the time had come for a fresh start after a series of state election debacles which have weakened Chancellor Angela Merkel's coalition in Berlin.
Westerwelle returned from a trip to China and Japan Sunday and is expected to remain foreign minister and vice chancellor for now, but media reports said he would likely clear the way for fresh leadership at a party meeting Monday.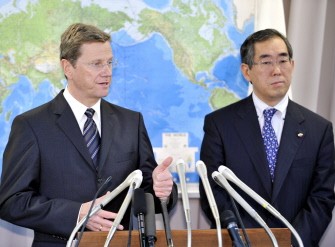 German Foreign Minister Guido Westerwelle (L) speaks while his Japanese counterpart Takeaki Matsumoto (R) looks on during a joint press conference after their talks at the Foreign Ministry in Tokyo on April 2, 2011.
"Westerwelle's FDP: It's Over," wrote the centre-left Tagesspiegel newspaper. "Westerwelle's heir as FDP chief will be named tomorrow," the mass-selling Bild am Sonntag.
Possible successors include 38-year-old Health Minister Philipp Roesler and FDP general secretary Christian Lindner, 32.
FDP sources noted, however, that Westerwelle would likely only make the announcement when it is clear who should follow him. They said Monday's leadership meeting was scheduled to be twice as long as usual at three hours.
The sharp-tongued Westerwelle, post-war Germany's most unpopular chief diplomat according to polls, is now widely seen as a millstone around the neck of the FDP, which he has led for a decade.
Although he shepherded the party back into government in 2009 after 11 years in the political wilderness, critics say he has an abrasive personality far better suited for sniping from the opposition.
The party has seen a free fall in support starting soon after it joined Merkel's coalition 18 months ago due to bitter infighting in the government over healthcare, energy and tax policy -- the FDP's main programme plank.
The FDP failed to clear the five-percent hurdle for representation in two state elections last month and barely squeaked past in a third, Baden-Wuerttemberg, where Merkel's conservatives lost power for the first time in nearly six decades.