Germany's top general quit on Thursday over an air strike in Afghanistan on two fuel tankers hijacked by the Taliban in which dozens of civilians are believed to have died in the resulting inferno.
The resignation, announced in parliament by Defence Minister Karl-Theodor zu Guttenberg together with that of a senior ministry official, followed press revelations that a military report about the September 4 strike was suppressed.
The news came at an unfortunate time for Chancellor Angela Merkel, as parliament was debating extending the mandate for the German mission in Afghanistan. Even before the air strike it was opposed by a majority of Germans.
With around 4,300 troops in the war-torn region, Germany is the third-largest contributor of foreign soldiers in Afghanistan after the United States and Britain.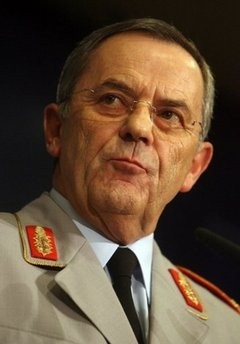 General Wolfgang Schneiderhan -- Germany's chief of staff -- has resigned over a controversial strike in northern Afghanistan in September 2009.
Chief of staff
General
Wolfgang Schneiderhan
"has released himself from his duties at his own request," zu Guttenberg said. "State secretary (Peter) Wichert is also taking responsibility."
Zu Guttenberg, who took over from Franz Josef Jung only last month, confirmed that the report had been withheld and said that he had been informed about it only on Wednesday.
A German commander, Colonel Georg Klein, called in the NATO air strike against the two fuel trucks near Kunduz after they got stuck on a sandbank crossing a river, fearing they could be used to attack troops.
Bild showed on its website aerial video footage of the trucks surrounded by people, before an immense explosion followed by a fireball and a huge jet black mushroom cloud.
An Afghan government report in September said 99 people were killed, including 30 civilians.
A confidential NATO report cited by Schneiderhan in late October said that the death toll varied between 17 and 142, and that local sources had said that 30 to 40 civilians died.
Assadullah Omar Khil, elder of the Omar Khil tribe, welcomed Schneiderhan's resignation, saying that 100 members of his tribe included 14 children -- and "no more than eight Talibans" -- were killed.
The Bild newspaper cited a confidential army report that the paper said showed that Klein could not rule out the presence of civilians around the trucks when he ordered the strike.
If that is the case, NATO rules of engagement state that Klein should not have ordered the bombing.
A NATO source said this month that two US F15 jets made two requests to make a "show of force", meaning to fly low over the area to scare people away, but that the German commander told them to drop their 500-pound (227-kilo) bombs.
The strike came shortly after the new commander of the 100,000-strong international force in Afghanistan, US General Stanley McChrystal, had issued a directive that civilian casualties had to be avoided.
Schneiderhan had previously defended Klein's actions.
"I have no reason to doubt that German soldiers acted in the correct military fashion, given their mandate from the United Nations and the difficult operational situation," the general said.
The Bild report also added to pressure on Jung, now labour minister, who said two days after the strike that according to his information "only Taliban terrorists" were killed.
According to the mass-circulation daily, only hours after the strike commanders had informed military HQ in Germany that there were two dead teenagers in Kunduz hospital and six people injured "aged between 10 and 20."
Commanders also reported that before the strike the Taliban had stormed a local mosque "and forced many villagers to help recover the fuel using tractors. Fourteen of them have since disappeared," Bild said.
But this information was not made public.
Jung later on Thursday rejected calls for his resignation, telling parliament that he had been aware of the report on October 5 or 6, which he had ensured was forwarded to NATO.
But he said that that he was not given "concrete indications" as to its contents.