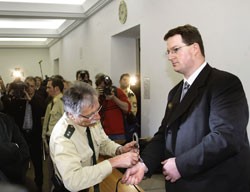 27-year-old defendant, Stephan L. arrives  at a court in Kempten, southern Germany for the start of his trial , 07 February 2006. (Photo: AFP) 
Stephan Letter, 27, who has been nicknamed the "Angel of Death" by the German press, admitted to killing some of the patients and asked their relatives for forgiveness.
"I want to confess my guilt," he told the court in the southern city of Kempten, adding that he brought his victims' lives to "an artificial end" before they could die of their illnesses.
The baby-faced nurse added that nothing could justify what he had done.
But he refused to say how many of the deaths he accepted responsibility for and retracted statements to the police after his arrest in 2004 in which he confessed to killing 12 of the deceased by lethal injection.
"I confessed to killings which I did not commit," he said.
Letter is being charged with 16 counts of murder, 12 of manslaughter and one of killing on demand.
On Tuesday he asked the court to convert all the murder charges to that of manslaughter, which carries a maximum sentence in Germany of 15 years in prison.
The 29 patients all died during the 17 months that Letter worked at the Sonthofen clinic in southern Germany, according to the prosecution, after they were injected with a lethal combination of drugs.
Most were age 75 or older, though the youngest was only 40.
The deaths of the patients raised no suspicion at the time, but the police were called in because medication had disappeared from the clinic.
Letter was finally arrested when they found medicine at his home which the state prosecutor in Kempten has said was enough to kill 10 people.
He initially told police the killings had been acts of mercy to "save" dying people from their suffering, a claim that was dismissed as "outlandish" by the head of the clinic.
After his confessions, investigators dug up 42 graves of people who died at the clinic in Sonthofen for autopsies, in some cases over the fierce resistance of their loved ones.
The prosecution said that Letter had maliciously ended the lives even of patients who were recovering and that in some cases he stole their belongings.
A lawyer for the families of the victims, Wilhelm Seitz, told AFP he will argue that they did not want to die, and that in fact some of them were preparing to leave the clinic when they were killed.
The case has shocked Germany, and press reports have mulled over Letter's childhood in speculation about what may have driven him to take patients' lives.
Der Spiegel news magazine wrote that he suffered from a severe lack of affection from a cold mother who had feared that her son would be born handicapped.
Germany has seen a spate of cases in which health workers are charged with killing people in their care, fuelling a long-running debate in the country about assisted suicide.

Source: AFP