BERLIN (AFP) – Germany's trade surplus plunged 43 percent in August compared to July after a drop in exports from Europe's biggest economy, official data showed on Friday.
The trade surplus, meaning that Germany exported more goods than it imported, was 8.1 billion euros (12.0 billion dollars) in August, down from 14.1 billion euros in July, the national statistics office said.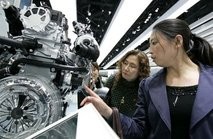 Visitors examine a display at a motor show in Frankfurt am Main in September. (AFP photo)
Economists polled by Dow Jones Newswires had forecast a much smaller surplus of 12.5 billion euros.
Exports fell to 60.4 billion euros from 70.5 billion euros in July, while imports slipped to 52.2 billion euros from 56.4 billion euros, according to the office's preliminary figures.
Compared to August 2008, exports were down by 20.0 percent and imports were 19.3 percent lower.
As one of the world's biggest exporters and one of the few large economies to have a trade surplus, Germany has been hit hard by the global recession, with its output forecast to shrink four to five percent this year.