BERLIN, Sept 30, 2011 (AFP) - Unease over the eurozone's ability to chart a course out of its debt crisis lingered Friday, despite an overwhelming vote by German lawmakers to boost the bloc's bailout fund.
Stock markets on both sides of the Atlantic greeted the news with relief as Chancellor Angela Merkel survived a vote that proved a hard-fought test of her political authority as the world looks to her to defuse the debt problem.
But Asian markets were gloomy Friday, with analysts saying the German move had not assuaged doubts that European policymakers were on track to surmount the crisis that threatens to hobble the global economy.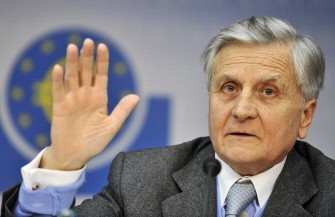 AFP file - President of the European Central Bank (ECB) Jean-Claude Trichet addresses a press conference at the bank's headquarters in Frankfurt/Main, January 15, 2009.
Tokyo stocks closed flat in directionless trade, with the benchmark Nikkei 225 index at the Tokyo Stock Exchange down 0.94 points to 8,700.29, while Hong Kong's Hang Seng Index dipped two percent to 17,636.47 by mid-session.
South Korean and Australian share markets were also flat, with the KOSPI ending 0.36 points higher at 1,769.65 and Australia's benchmark S&P/ASX 200 closing up just 0.3 points at 4,008.6.
The euro softened in Asian trade against major rivals, backtracking after an earlier boost following the German vote, as currency markets too stayed cautious over doubts about the fund's firepower.
The euro stood at $1.3531 in Tokyo trade, down from $1.3586, while fetching 103.58 yen against 104.33 yen.
Credit Agricole strategist Mitul Kotecha said there was still "a huge degree of scepticism" over the potential for policymakers "to resolve the crisis".
German deputies voted overwhelmingly to expand the scope of the 440-billion-euro ($590 billion) European Financial Stability Facility (EFSF), handing it new powers, for example to buy sovereign bonds.
"This is a clear show of support for the common currency," said Holger Schmieding, from Berenberg Bank.
The expansion also boosts the contribution of Germany, Europe's paymaster, to 211 billion euros, though Finance Minister Wolfgang Schaeuble insisted there would be no more additional cash flowing from Berlin.
"We have agreed German guarantees of 211 billion euros for the EFSF. More is not necessary," he said.
German dailies had dubbed Thursday "decision day for the euro" and "a fateful day" for Merkel, amid hopes Berlin would offer solutions to a eurozone crisis that US President Barack Obama has said is "scaring the world."
Despite fevered speculation in the run-up to the vote, Merkel did not have to rely on the opposition to pass the bill, staving off a potential political crisis that some feared could spark new elections in Europe's top economy.
German Foreign Minister Guido Westerwelle said that with the vote, "the signal to our European partners is that you can rely on Germany."
"Today's decision is an important contribution to solving the debt crisis and to stabilising the euro," Westerwelle said.
The European Commission also hailed the result with a spokesman for Economic and Monetary Affairs Commissioner Olli Rehn saying: "We welcome this new approval of the EFSF."
The spokesman, Amadeu Altafaj, added that the rescue fund was still a "work in progress" but stressed Brussels hopes all eurozone states will have ratified the agreement by mid-October.
Cyprus and Estonia also approved the changes to the EFSF on Thursday, leaving just four of the 17 eurozone countries to vote.
Italy issued 7.85 billion euros worth of bonds Thursday with sharply higher interest rates, reflecting renewed discontent on the markets.
Former British prime minister Gordon Brown warned of more doom ahead, saying in an opinion piece in the New York Times: "It has been clear for some time that... the euro cannot survive in its present form."
Many banks were "close to insolvency," argued Brown, also a former finance minister, adding that "a far larger rescue fund -- two, perhaps three trillion euros -- is needed to stabilise the eurozone."
In Athens, auditors from the European Union, European Central Bank and International Monetary Fund met with officials as part of their audit to decide whether to disburse eight billion euros ($11 billion) of crucial aid for Greece.
Eurozone finance ministers will likely decide on October 13 "whether the conditions are met for the next tranche to be disbursed," Schaeuble said in the parliamentary debate.
As staff associations occupied nearly a dozen Greek ministry buildings in protest at the crippling austerity measures needed to tackle the country's debt pile, Athens says it has enough cash to pay the bills until the end of October.
The German vote sent European stocks higher, but later trimmed their gains, with Frankfurt ending the day up 1.10 percent and Paris 1.07 percent, but London showing a loss of 0.4 percent.
US blue chips rebounded but tech stocks fell at the close Thursday, with the Dow Jones Industrial Average up 143.08 points (1.30 percent) at 11,153.98.
The broader S&P 500 added 9.34 (0.81 percent) to 1,160.40, but the tech-heavy Nasdaq Composite fell 10.82 (0.43 percent) to 2,480.76.