Germany is on a collision course with the rest of Europe ahead of an EU summit later this week, as it fights off growing pressure for a rescue package for Greece.
The markets reacted nervously, and in the United States, a senior banking official warned that Greece's debt crisis could hit the US economy.
German Chancellor Angela Merkel said there was "no question of an urgent decision in the European Council about aid for Greece" when European leaders meet for a summit in Brussels on Thursday and Friday.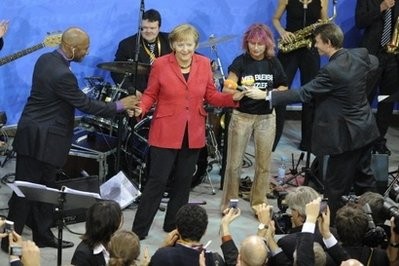 German Chancellor Angela Merkel
She also hinted that debt-laden Greece could ask for loans from the International Monetary Fund in Washington -- a prospect that some experts say would drastically undermine confidence in the 16-nation eurozone as a whole. Related article: Merkel caught in crossfire
Her comments came despite calls from the European Commission and the EU's Spanish presidency to help Greece.
"We need a decision at this summit," warned European Commission chief Jose Manuel Barroso. "We can't keep going this way, we risk endangering the stability of the eurozone and feeding speculation."
Barroso expressed confidence that Germany would support eurozone-led financial assistance to Greece if it was requested, in an interview published Tuesday.
"I know Chancellor [Angela] Merkel. She is a committed European and I have no doubts that she will, if needed, be in favour of providing financial assistance to Greece," Barroso told the Financial Times newspaper.
The commission president said he did not exclude the International Monetary Fund from providing assistance to debt-laden Greece.
Eurozone countries could support Greece through bilateral loans with strong conditions attached, adding this would not amount to a "bailout" in contravention of EU rules, Barroso said.
"But it is completely wrong and misleading to say that because of the 'no bailout' clause there cannot be help to some member states," he added.
France and Italy also backed European intervention in Greece's debt crisis.
"The French position is very clear," French Foreign Minister Bernard Kouchner said. "We cannot, we must not abandon our Greek friends."
Speaking after meetings in Brussels, Kouchner added that "on this issue, we are not totally in agreement with our German friends."
Dennis Lockhart, the head of the Federal Reserve of Atlanta, warned the Greek crisis could have a knock-on effect on the US economy.
Adjustments across the European Union to fiscal problems resulting from the crisis could dampen eurozone growth and limit US exports to that region, he said. The EU is the largest export market for the United States. Related article: German bank chief presses for eurozone reforms
The crisis could also lead to currency flows from the euro into "safe-haven" US dollar assets, pushing the dollar's value up and thus hurting American export competitiveness, he added.
Greece's plight could also send shockwaves through the financial markets, thus disrupting the banking system, Lockhart argued.
Greek Prime Minister George Papandreou says his country faces the prospect of bankruptcy without some form of support, particularly to reduce the interest rate it is forced to pay to borrow money on international debt markets.
European finance ministers last week discussed plans to provide loans for Greece if necessary but did not announce any firm decisions. They said they would wait for political backing from the summit of EU leaders this week.
The standoff has become increasingly bitter in recent days.
Greek Deputy Prime Minister Theodoros Pangalos said Germany was playing a "miserable game" by betting on rising Greek bond yields for its banks and cheaper exports for its industry because of euro's fall.
But a new poll showed that 61 percent of Germans opposed any bailout for Greece. German news magazine Der Spiegel said Merkel was acting with a "resolve reminiscent of (former British prime minister Margaret) Thatcher."
The bond markets reflected growing concern at the crisis, with the yield -- or interest rate -- on Greek government 10-year bonds rising to 6.446 percent late Monday compared to 6.333 percent late on Friday.
The euro rose slightly against the dollar in late trading in London, going up to 1.3561 dollars compared to 1.3530 dollars late on Friday.
Earlier Monday, however, it fell to 1.3496 dollars -- its lowest level since the start of March.
"The European authorities' inability to agree upon specific details for potential financial support for Greece if needed continues to weigh on the euro," said Lee Hardman, an analyst at Bank of Tokyo-Mitsubishi. Related article: Greek central bank slashes growth forecast
Greece has the highest deficit in the eurozone -- estimated at 12.7 percent of output in 2009 -- and has announced draconian plans to cut spending and raise taxes in order to meet the EU-mandated limit of three percent by 2012.
But the Athens government risks a financial crunch as it needs to raise more than 50 billion euros (68 billion dollars) on the financial markets this year.
That includes some 20 billion euros for debt redemptions due by the end of May.