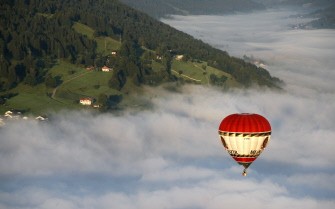 A hot-air balloon flies over the morning mist near Immenstadt in Allgaeu, southern Germany, on August 24, 2009 (AFP photo)
BERLIN, Aug 25, 2009 (AFP) - Germany has escaped the clutches of its worst recession in more than 60 years, official data showed Tuesday, as its economy -- Europe's largest -- grew in the second quarter after four quarters of contraction.
The economy grew by 0.3 percent in the April-June period compared to the first quarter, thanks mainly to private and government consumption, the Federal Statistics Office said.
The news will come as a boost to Chancellor Angela Merkel as she gears up for a September 27 election, analysts said.