FRANKFURT (AFP) – Germany posted its best quarterly growth since reunification in 1990 on Friday, with one economist saying it was "in a league of its own" as other leading nations showed signs of slowing down.
The German economy, Europe's biggest, thundered ahead at a rate of 2.2 percent in the second quarter from the previous three-month period, and 4.1 percent from the second quarter of 2009, the national statistics office said.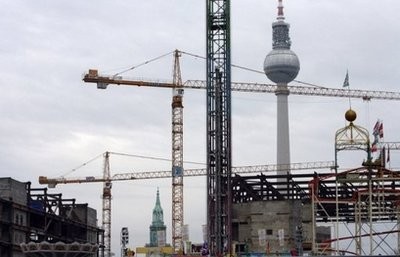 (AFP file) Construction cranes work in Berlin, 2007.
"The recovery of the German economy, which lost momentum at the turn of 2009/2010, is really back on track," the Destatis office said. "Such quarter-on-quarter growth has never been recorded before in reunified Germany."
Elsewhere, major economies in North America and Asia are showing signs of slowing down while the 16-nation eurozone might see better than expected figures in the third quarter too.
ING senior economist Carsten Brzeski said Germany was "playing in a league of its own."
Destatis also revised the first quarter growth figure higher to 0.5 percent from an initial estimation of 0.2 percent, the rate seen at the end of 2009.
After suffering its worst post-war recession in 2009, "we are now experiencing XL growth," Economy Minister Rainer Bruederle said.
Analysts polled by Dow Jones Newswires had forecast a second-quarter rise of 1.4 percent and an annualised gain of 2.6 percent.
The record figure is especially notable as fears grow that the United States and now China, the Asian powerhouse, are showing distinct signs of slowing, raising questions about the overall global recovery.
But while Germany normally relies on exports to underpin growth -- it is the second biggest exporter worldwide after China -- "household and government final consumption expenditure contributed to GDP growth, too," Destatis said.
"Structurally in a much better shape than many other industrialized countries, it was just a matter of time before the German economy would pick up further speed," Brzeski said.
UniCredit counterpart Alexander Koch said Germany had "put the pedal to the metal" in the second quarter, and added that "the massive rebound in the spring GDP figures impressively confirms the revival of the German business model."
Barclays Capital senior economist Julian Callow said the latest figures put Germany "on track to grow around three percent or even slightly more for this calendar year, significantly stronger than our prior estimate."
For the full eurozone, European Central Bank president Jean-Claude Trichet said last week: "We consider that both the second quarter and probably the third quarter are likely to be better than we had anticipated."