Germany was set Wednesday to extradite a Rwandan presidential aide to France to face anti-terror judges probing the downing of the former Rwandan president's jet, an attack which triggered a genocide.
French investigators believe Rose Kabuye, chief of protocol to President Paul Kagame, played a role in the 1994 attack, which killed presidents Juvenal Habyarima of Rwanda and Cyprien Ntaryamira of Burundi.
Following his assassination, Habyarima's ethnic Hutu supporters launched a campaign of slaughter that left 800,000 ethnic Tutsis and moderate Hutus dead.
Two French pilots died in the plane, leading France to launch an enquiry which has fouled the already bitter relations between Kagame's government and Paris, which he accuses of supporting Rwanda's genocidal former regime.
Kabuye, a 47-year-old former mayor of Kigali and military leader in Kagame's successful war to overthrow the government and halt the killings, was arrested in Frankfurt on November 9 on a private visit to Germany.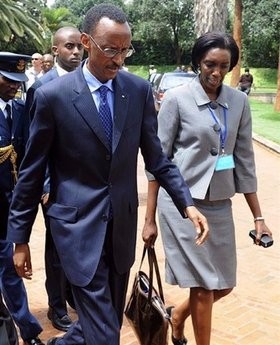 Rwandan President Paul Kagame walks with aide Rose Kabuye November 7 during a summit in Nairobi.
On Wednesday, German officials were to hand her over to French judges two years after they first issued international warrants for nine Rwandans they suspect of playing a role in the attack on the plane.
She faces indictment on a charge of "complicity in murder in relation to a terrorist attack" and judges may attempt to have her remanded in custody to await trial, a move that would further enrage Rwanda.
"We're impatient to hear what the prosecution has to say about custody, it will be a key moment in the investigation," Kabuye's lawyer Bernard Maingain told AFP, insisting the defendant could live in France while awaiting trial.
"Mrs Kabuye is calm. She's a real fighter. You must know she faced other battles. She spent years in the bush after her family was expelled from Rwanda in the 1950s," he said.
Kagame held a news conference on Monday in Kigali to denounce France and Kabuye's arrest, declaring: "It is not only Rose who is in the dock, it is Rwanda that is in the dock."
Kagame's government, which accuses France of having supported the Hutu militias who massacred members of the Tutsi minority 14 years ago, says Europe is persecuting the genocide's survivors instead of hunting its perpetrators.
"They indict people falsely to cover their own responsibility," Kagame said.
The 2006 French warrants led to Rwanda severing its diplomatic ties with France. Three days of street demonstrations were organised in the streets of Kigali following Kabuye's arrest and more are planned.
Judicial sources in Kigali have said that Rwandan justice could soon issue warrants and indictments against some of the 33 political and military French officials named in a Rwandan report on France's role in the genocide.
"Possible indictments are part of many things we could do with the report. It will depend on many factors. For sure, the report will lead to something," Kagame said.
Among the French leaders who could find themselves accused are former prime ministers Alain Juppe and Dominique de Villepin amd former foreign ministers Hubert Vedrine.
According to French judicial sources, the judges were ready to abandon their inquiry into the assassination when Kabuye's arrest fell into their laps.
Some investigators fear that she deliberately delivered herself to German authorities in order that he lawyers could win access to the case files prepared against her and other Kagame allies.