Germany's foreign minister kept up the pressure on Greece on Friday, saying there could be no more payments of aid unless Athens enacted reforms it has agreed with its international partners.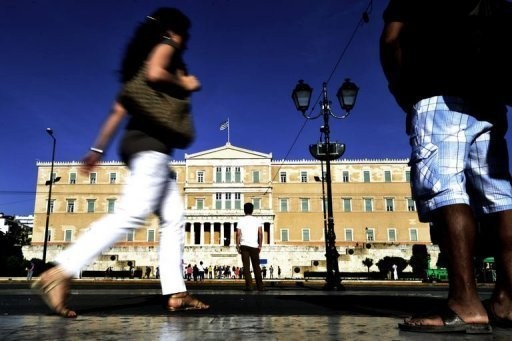 People walk by the Greek parliament in Athens. Greece's radical leftist Syriza party is set to start trying to build an anti-austerity cabinet and prevent fresh elections, a day after the conservatives failed to form a coalition government.
"We want to help Greece and we will help Greece. But Greece has to want to be helped. If they deviate from the agreed reform path, then the payment of further tranches of aid is not possible," Guido Westerwelle told lawmakers.
"We are sticking to our pledges to help. But that means as well that the agreed reforms in Greece must be carried out.
"We want to keep the eurozone together. The future of Greece in the eurozone now lies in the hands of the Greece," he stressed.
Greek politicians are battling to form a government after inconclusive elections at the weekend that handed massive gains to parties opposed to austerity measures the EU has attached to its bailout packages.
There were small signs of progress late on Thursday after socialist leader Evangelos Venizelos won the conditional support of the small Democratic Left (Dimar) party in negotiations to form a cabinet.
The stalemate in Greece has raised concerns about possible political chaos that could kill off reforms and eventually force the debt-laden nation to leave the eurozone.
Germany has kept up the pressure on Greece to push through the austerity measures required or face the consequences.
"Solidarity is not a one-way street," Westerwelle cautioned.