BANGKOK, July 28, 2010 (AFP) - One of the world's biggest freshwater fish could be driven to extinction if plans to build hydropower dams on Southeast Asia's longest river go ahead, wildlife organisation WWF warned Wednesday.
Numbers of Mekong giant catfish -- believed to grow up to three metres (9.9 feet) long -- would "collapse" if it was blocked from its spawning grounds on the river through China, Laos, Thailand and Cambodia, the group said.
WWF said a hydropower dam planned at Sayabouly Province in northern Laos, one of 11 planned on the lower Mekong, was a "threat to the survival" of the species' wild population, which has already fallen 90 percent over 20 years.
The group also fears damming the river could irreversibly change its ecosystem, negatively affecting fisheries crucial to the livelihoods of over 60 million people in the region.
It warned there are at least 50 migratory species of fish in the Mekong -- making up 40 to 70 percent of the catch from the river -- that are highly vulnerable to the development of mainstream dams.
The giant catfish, which is thought to be the third largest freshwater fish on earth, migrates from Cambodia to spawn upriver in northern Thailand and Laos and the organisation fears damming the waterway could leave it stranded.
Roger Mollot, freshwater biologist for WWF Laos, said the giant catfish "simply will not be able to swim across a large barrier like a dam to reach its spawning grounds upstream".
"This would lead to the collapse of the wild population of this iconic species," he said.
The report said despite laws prohibiting catching the Mekong giant catfish in Cambodia, the population was already threatened because it is believed to bring good luck forever when eaten.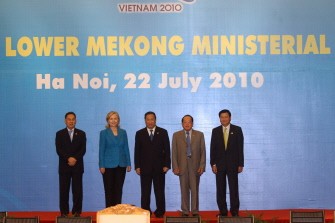 (L-R) Thai Foreign Minister Kasit Piromya, US Secretary of State Hillary Clinton, Vietnamese Foreign Minister Pham Gia Khiem, Cambodian Foreign Minister Hor Namhong and Laos Foreign Minister Thongloun Sisoulith pose for a photo during the 2nd Lower Mekong - US Ministerial Meeting in Hanoi on July 22, 2010. AFP
WWF said one quarter of the planet's giant freshwater fish can be found in the 4,800 km (2,976 miles) river -- more species of the huge creatures than in any other waterway on Earth.
Other mammoth fish in the Mekong include the giant freshwater stingray, which is thought to be the world's biggest river fish and can grow to half the length of a bus, with a maximum weight of 600 kilos (1,320 pounds).
The wildlife group is calling for delays in approval for the dams under development while further study is undertaken on their potential impact.