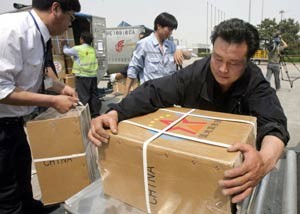 Airport staff load the materials and equipments as members of the Chinese International Search and Rescue (CISAR) team depart for Yogyakarta, at the Beijing Capital International airport, May 29, 2006 (AFP Photo)
In Geneva, United Nations and Red Cross agencies gathered to coordinate the international mobilisation which has already drawn contributions from Beijing to Washington, London to Sydney.
Relief officials on Indonesia's main island of Java, where the quake struck Saturday near the ancient cultural capital Yogyakarta, said Monday that their top priorities were emergency field hospitals, hygiene and drinking water.
Nearly 5,000 people were killed, many thousands more injured and as many as 200,000 left homeless when the 6.3-magnitude quake demolished homes across the densely-populated region.
"Our priorities are very much in health, hygiene and water," UN Children's Fund (UNICEF) spokesman John Budd told AFP, saying Yogyakarta's hospitals were handling five times their normal patient load.
UN deputy humanitarian aid coordinator, Bo Asplund, said on CNN that field hospitals, more doctors and nurses and medicines were needed.
Most of the international effort is focused on the Bantul district south of Yogyakarta, where 60 percent of the fatalities lived.
A spokeswoman for the UN humanitarian coordination office (OCHA), Elisabeth Byrs, said a disaster assessment team was rushed to the area when the Jakarta government formally asked for help Sunday.
An internal OCHA task force met here at 10:00 am (0800 GMT) to prepare for the first inter-agency talks four hours later where officials would "exchange information and coordinate activities," Byrs told AFP.
On Sunday, the UN's World Food Programme began distributing emergency food rations to survivors in the worst-hit districts, Bantul and Klaten, drawing on stocks already in the country.
The initial 30 tonnes of high-energy biscuits is sufficient to feed around 20,000 people for seven days, the WFP said.
Red Cross medical teams were rushed from neighbouring countries to back up colleagues in Indonesia, and the International Federation of Red Cross and Red Crescent Societies launched an appeal for 9.79 million dollars (7.68 million euros).
The International Organization for Migration (IOM) was distributing 35 tonnes of food, water and medical supplies.
International agencies have maintained a heavy presence in Indonesia after the devastating undersea quake off Sumatra in December 2004 and the resulting tsunami left 168,000 people dead in the province of Aceh.
That relief effort, the world's biggest ever, was sharply criticised after inappropriate supplies were flown in and bottlenecks hampered delivery.
The latest relief operation took a step forward with the reopening to both commercial and private aid flights of the airport in Yogyakarta which had been damaged. Five aid flights arrived late Sunday and more were en route Monday.
The move was expected to speed delivery of supplies, which initially had to be brought in by land over difficult-to-navigate roads.
Among aid promises so far have been 5.5 million dollars from Britain, five million plus food, medical aid and tents from Saudi Arabia, four million each from Kuwait and the United Arab Emirates, 3.8 million from the European Union, 2.5 million from the United States and two million from China.
Many others pledged smaller amounts, either directly or through agencies.
France, like some other countries, despatched doctors and technical experts -- a 40-strong rescue team left late Sunday on a flight carrying relief, a day after a separate five-man team had left to assess humanitarian needs.
French Foreign Minister Philippe Douste-Blazy said Paris was ready to send an emergency hospital and that more specialists were taking off Monday.
A first Japanese team arrived Monday in Yogyakarta, and Tokyo despatched a second medical team and promised more than 10 million dollars in grant aid.
Japan also donated about 180,000 dollars worth of emergency goods including tents, water purifiers, generators, blankets, sleeping mats and water tanks.
Pakistan -- engaged in its own massive reconstruction effort after a quake last October claimed more than 73,000 people and left 3.3 million homeless -- sent a 30-tonne consignment of tents, blankets, food and medicines.
Australia also sent medical teams and supplies. Prime Minister John Howard promised additional aid on top of an initial three million US dollar donation to the International Red Cross.
Source: AFP