More than 110 mayors and officials as well as top executives of corporations and international organisations are gathering at the five-day 2016 World Cities Summit (WCS) in Singapore which opened on July 10, source from Vietnamplus.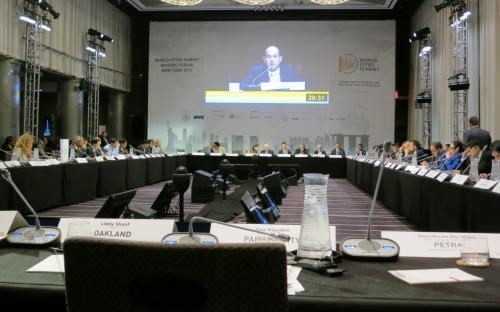 Scene at the 2016 World Cities Summit Mayors Forum (Photo: worldcitiessummit.com.sg)
Themed "Liveable & Sustainable Cities: Innovative Cities of Opportunity", the fifth edition of the WCS seeks to explore how cities can be better governed and build up resilience through policy, technology and social innovations.
Among participants at the summit are representatives from six Vietnamese cities and provinces – Hanoi, Ho Chi Minh City, Da Nang, Khanh Hoa, Quang Ngai and Thua Thien – Hue.
Nguyen Duc Chung, Chairman of the Hanoi People's Committee, said the Vietnamese capital city wants to learn from other cities' experience in addressing environmental pollution, clean water shortage and building a smart city.
In his opening remark at the event, Singaporean President Tony Tan underscored complex challenges faced by cities worldwide, particularly the impacts of global climate change, such as floods in Europe, storms in Australia and heat waves in India.
Singapore is committed to working with cities worldwide in finding innovative solutions to the issue, he said.
At the WCS Mayors Forum, a highlight of the summit held earlier the same day, Lawrence Wong, Singaporean Minister for National Development and Chairman of the Forum, noted key considerations in urban planning and governance that include long-term city planning, constant innovation, research and development, and the engagement of different stakeholders.
The forum issued a declaration on how to make cities safe, inclusive, resilient and sustainable. They have identified areas of action for cities as contributions to the upcoming United Nations Conference on Housing and Sustainable Urban Development, to be held in October.-