UNITED NATIONS, Sept 14, 2011 (AFP) - Global investment in clean energy rose to a record $243 billion dollars last year with the vast majority concentrated in the world's top 20 economies, the United Nations said Wednesday.
Many countries are struggling with the breakneck increase in climate change financing, however, according to a new UN Development Program (UNDP) guide to one of the world's fastest growing industries.
Over the past two years more than 50 national public climate funds have been created. There are 45 carbon markets and more than 6,000 private equity funds providing billions of dollars for climate change action, the guide said.
The European Union, Japan and the United States are already providing $30 billion a year to help poorer nations combat global warming and this Green Climate Fund will be channeling $100 billion a year by 2020.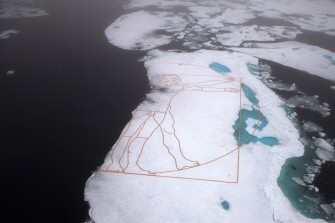 AFP - This recent Greenpeace houndout shows the crew of the Greenpeace icebreaker Arctic Sunrise helping artist John Quigley recreate da Vinci's sketch The Vitruvian Man, from copper on the Arctic sea ice. Greenpeace commissioned the work to highlight the fact that the Arctic is melting and the need for world leaders need to take urgent action on climate change.
Cassie Flynn, lead author of the UN guide, said that climate financing is now hitting "historic" levels.
"There is really only a small group of countries that are accessing the funds as easily as we would hope and this is where national climate funds come in," Flynn said, highlighting the concentration of clean energy financing in the Group of 20 major economies.
Poorer nations are predicted to bear the brunt of rising seas, drought and the fierce storms that are being blamed on global warming.
Brazil and China have two of the most successful national climate funds, according to Flynn.
Brazil taxes its oil industry to pay for climate projects, and China expects to have $1.5 billion a year from 2012 paid for from its own business operations and international grants, according to the UN guide.
National funds help individual countries to access and use the varied financing, said Flynn. Countries have to prepare for initiatives such as the Green Climate Fund and the huge sums it will be handling.
"How can they better put in place systems on their side, domestically, to better access these funds, to get results out of those funds," Flynn said.
"I think we will see many more national climate funds in coming years. These are the best way to attract and channel resources."
The guidebook can be accessed at www.undp.org/climatestrategies