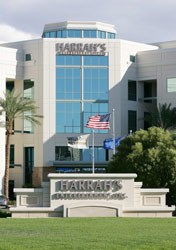 Harrah's Entertainment Inc. the largest casino operator in the world, agreed Dec. 18, 2006 to a USD16.7 billion takeover bid from two private equity groups (AFP Photo)
Frenetic global takeover activity this year has been driven partly by an over-reliance on debt and this could cause problems if economic growth slows or interest rates rise, analysts say.
The total value of takeovers across the world in 2006 stood at 3.427 trillion dollars (2.619 trillion euros) on December 10, according to Canadian financial information provider Thomson Financial.
That was higher than during the height of the dotcom Internet bubble in 2001.
In 2006, an increasing number of mergers and acquisitions (M and As) have been financed largely by debt, in particular via the increasingly popular method known as a leveraged buy-out (LBO).
LBOs are usually based on a relatively small amount of actual capital or cash, with high levels of borrowing, and are often orchestrated by investment funds.
"Volatility is at all-time lows, valuations are close to their richest levels... and LBOs and M and A deals abound," said Barclays Capital analyst Robert McAdie in a report published last week.
"Clearly, liquidity is the overriding factor in spite of higher interest rates."
However, McAdie issued a stern warning over the global economic outlook, despite the high level of credit quality, or the capacity of individuals or companies to repay credit.
McAdie said that although credit quality remained "robust", he questioned the increased trend towards high-risk borrowing.
Recent research from London-based finance house Close Brothers suggested that the credit cycle could be about to change.
Close Brothers calculated that the total amount of so-called high-yield credit bonds, the riskiest category, would reach 30 billion euros in Europe this year, compared with just 17 billion euros in 2003.
"This is a huge rise in the issuance and overall growth of lower quality bonds," said Matthew Prest of Close Brothers.
"Even if overall macro-economic conditions remain benign the historic default rates of CCC-rated (higher risk) bonds point to problems ahead.
"Many struggling companies will not be able to continue refinancing their way out of trouble as has been the trend of recent years" owing to higher interest rates, he added.
Other analysts are more guarded over the effect of slower economic growth on credit quality.
"We are strong believers in a consumer-led slowdown in the US and ... the evidence is now accumulating," said Willem Sels, Head of Credit Strategy at Dresdner Kleinwort.
"Clearly this is a critical variable, and every credit investor needs to make up their minds as to how pronounced and extended the US slowdown will be," he added in the group's Credit Strategy Outlook for 2007.
In the months ahead, generating returns through debt-backed M and A activity could become increasingly hard, according to McAdie at Barclays Capital.
"What will change the current utopia as the world markets mull over the balance between slower growth and higher interest rates?"
"In this environment, navigating the markets and generating returns is becoming far more difficult."