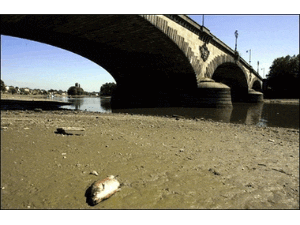 A dead fish lies on the banks of the River Thames near Putney Bridge in London
Lack of action by the world over climate change could cost countries up to a fifth of their gross domestic product, a former World Bank chief economist told the British cabinet, The Independent reported.
Nicholas Stern told Prime Minister Tony Blair and his cabinet colleagues on Thursday, in a preview of a report he is due to deliver on Monday on the economic consequences of climate change, that it would cost the world one percent of its annual GDP to fight off global warming.
Doing nothing, however, would cost between five and 20 times that amount.
The contents of Stern's report, commissioned by the British finance ministry, have been kept secret since being revealed to the world's environment ministers at a conference in Mexico earlier this month.
"He left no one in any doubt that doing nothing is not an option ... And he stressed that the need for action was urgent," an unnamed civil service source told the newspaper.
The Independent said that the finance ministery hoped Stern's report would turn the tide of public opinion in the United States, and dispute the American government's assertion that cutting carbon emissions was bad for economic growth.
"Its biggest impact could be on public opinion in America, which is like turning around a tanker," an unidentified official said to the newspaper.
Meanwhile, The Financial Times reported on Friday that the report would propose a large expansion in the market for trading carbon emissions in an effort to slow the growth of emissions around the world.
Big polluters would be able to cut emissions to the level of credits they held, buy new credits in the market, or earn new credits by investing in carbon-efficient technologies in developing countries.