It takes an emphatic and continuous cooperation among Greater Mekong Subregional (GMS) nations to tackle the problem of human trafficking, Cambodian Deputy Prime Minister Sar Kheng has declared.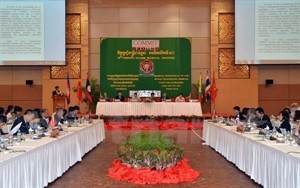 The recent 10th COMMIT Senior Official Meeting in Cambodia (Photo: VNA)
Addressing the opening ceremony of the GMS Ministerial Meeting on April 30 in Phnom Penh, the Deputy PM, who is also Cambodia's Minister of Internal Affairs, made it clear that human trafficking is a big burden affecting all the region's nations and governments.
He stressed the need for a commitment, jointly made by stakeholders, to act against human trafficking. The ministerial event presents the perfect opportunity for involved nations to work together and crackdown on the problem, he added.
One of the event's objectives is to approve the Coordinated Mekong Ministerial Initiative against Trafficking (COMMIT) for the 2015-2018 period.
The third COMMIT communiqué is also expected to be signed during the event, authorising the use of wider approaches and resources to eliminate human trafficking in the region.
According to a survey conducted by the International Labour Organisation (ILO), some 20.9 million people across the world have suffered from forced labour, with nearly 20 percent of them being children. A majority of them are from the GMS.
The GMS cooperation programme consists of Vietnam, Laos, Cambodia, Thailand, Myanmar and China's Yunnan and Guangxi provinces.