The price of gold forged a record high above 1,068 dollars an ounce here on Tuesday as the dollar sank against the euro.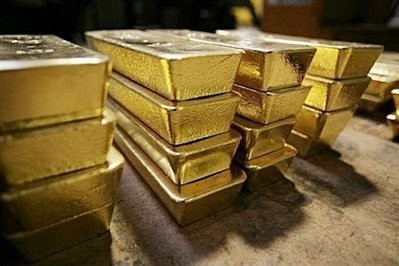 Gold bars are pictured at a plant of a gold refiner and bar manufacturer in Switzerland.
On the London Bullion Market, gold struck 1,068.63 dollars an ounce, which was the highest level ever recorded.
Gold's latest pinnacle was recorded after the European single currency climbed as high as 1.4876 dollars, a level which was last seen in August 2008.
A struggling greenback makes the precious metal cheaper for investors holding other currencies, thereby boosting demand, analysts said.
The glamorous metal, used in jewellery, dentistry and electronics, has struck a series of all-time highs in recent weeks owing to the weak dollar.
The price of gold later pulled back to 1,057.50 dollars an ounce, which compared with 1,058.75 dollars an ounce late on Monday.