US web giant Google said Friday its licence to operate in China, the world's largest Internet market, has been renewed, ending weeks of tension over Beijing's handling of the issue.
"We have got the renewal," Google's Beijing-based spokeswoman Marsha Wang told AFP.
"We are very pleased we got the ICP (Internet Content Provider) annual renewal. We are very pleased we can continue to provide products and services to our users."
The renewal comes after a period of uncertainty over the licence and follows a standoff between the US Internet giant and Beijing over state censorship.
In March, Google said it would no longer bow to government censors and effectively shut down its Chinese search engine, re-routing mainland users to its uncensored site in Hong Kong.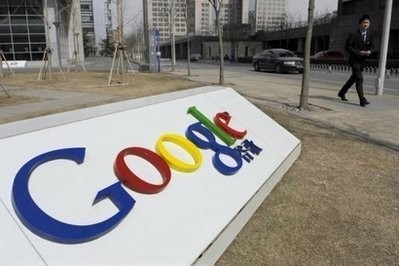 A man walks past the Google company logo outside the Google China headquarters in Beijing in March 2010
But last week, the company reversed that decision out of concern for the renewal of its licence.
Currently all mainland users are directed to a new landing page on google.cn, a website in China that now has links to the Hong Kong site. Google has said it believes this approach complies with Chinese law.
"It was clear we had to end the redirect," the Financial Times quoted Google CEO Eric Schmidt as telling a symposium in the United States on Thursday.
An official with the Ministry of Industry and Information Technology, the main regulator of China's Internet industry, told AFP earlier this week that Google's application was under consideration.
Last month, Google's chief legal officer David Drummond said in a post on the company's blog: "Without an ICP licence, we can't operate a commercial website like google.cn -- so Google would effectively go dark in China."
China has more than 400 million web users, according to official data.
The spat between Google and the Chinese government spilled over into the diplomatic arena, with Washington and Beijing waging a months-long war of words on the issues of Internet freedom and troubles faced by foreign firms in China.
China employs a vast system of Internet censorship dubbed the "Great Firewall of China" which polices what the world's largest online population can see and do on the Web.
Beijing regularly invokes the need to stamp out pornography as a key reason for the controls but critics contend its primary purpose is to quell political dissent or content seen as threatening to Communist Party rule.
This week, a top Chinese think tank, the China Academy of Social Sciences, said social networking sites like Facebook pose a security threat to China and are used as "tools of subversion" by Western nations including the US.
In its annual report on new media, the academy also accused Google of being tied to US government information services and bent on advancing America's global "hegemony".
Meanwhile, prominent US-based human rights group have urged governments and technology companies to support Google.
"Governments and the industry should send a very clear message to China that it must provide a business environment for foreign companies that doesn't force them to violate human rights," said Sharon Hom, executive director of Human Rights in China.
"Google is standing there alone," she said. Others "must step up to the plate and address this as a collective industry Internet challenge. They can't just say it's a Google problem."