BRUSSELS (AFP) – Greece's public deficit shot up to 10.5 percent in 2010, the EU said Tuesday as experts increasingly anticipate a need for Athens to restructure giant debts estimated at more than 340 billion euros.
Finance Minister George Papaconstantinou acknowledged earlier this month that the deficit would be "higher than" the 9.5 percent previously thought, without giving any figure.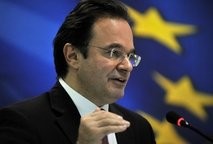 AFP/File – Greek Finance Minister George Papconstantinou
Greek conservative newspaper Eleftheros Typos estimated that the Greek government must make additional savings of some eight billion euros ($11.3 billion) "to save this year's budget from a complete derailment."
Experts from the European Commission, European Central Bank and International Monetary Fund have been in Athens this month, discussing future steps to be taken with Athens locked out of commercial money markets since accepting a 110-billion-euro international bailout almost one year ago.
Papaconstantinou has said Greece could buy back some of its debt -- in 2010 estimated at 142.8 percent of gross domestic product -- provided enough money was raised from state asset sales.
With money markets believing Greece will have to restructure its long term debt, its creditors -- notably the IMF -- have encouraged the socialist government to try to build a national consensus around the needed reforms.
Athens last year agreed to overhaul its economy and slash public spending in return for a 110-billion-euro EU-IMF loan that saved the country from default.