ATHENS, June 28, 2011 (AFP) - Greece ground to a halt Tuesday as a 48-hour general strike began to bite while the bankruptcy-threatened government attempted to push through sweeping austerity cuts.
Apart from the metro, no public transport was operating in Athens and the streets were relatively empty, with many people deciding to stay away from work to join the fourth general strike called this year by the country's two biggest unions.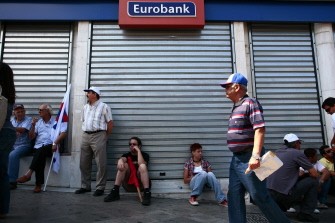 AFP - People sit in front of a closed bank in Athens on June 28, 2011 during a 24-hour general strike.
Subway employees decided not to strike so as to allow Athenians to join planned protests in the capital.
But banks were closed and hospitals were functioning on reduced staffing while at airports, dozens of domestic flights by Greek airlines Olympic Air and Aegean were cancelled as air traffic controllers went on strike.
In the port of Pireus, near Athens, which links most Greek islands with the mainland, the main seamen's union was not officially on strike, as the tourist season is just getting under way.
Nevertheless around 200 militants from a communist union and a port employees' union picketed to prevent ferries from leaving the port.
A string of rallies are planned for Tuesday, focused on Syntagma Square -- home to the Greek parliament and a magnet for tens of thousands of protesters who see the international community as imposing tough conditions for their bailouts.
"We think these measures and government policy are bad for workers in general. They are cutting salaries, they are cutting pensions and cutting social services. In fact they are taking money off workers to give it to banks and big business," a port employee and unionist told AFP.
Parliament is scheduled to vote Wednesday and Thursday a package of austerity measures aimed at slicing 28.6 billion euros from government spending by 2015, and raising what international partners hope can reach 50 billion in privatisation receipts.
The EU and IMF have demanded the cuts and sell-offs in order provide the latest tranche of funding under last year's 110-billion-euro bailout package.
Approval of the austerity measures by lawmakers would also allow work to proceed on a second bailout of a similar size.
Meanwhile the Greek press on Tuesday welcomed a French initiative to come up with a long-term rescue plan for debt-ridden Greece.
President Nicolas Sarkozy announced Monday that France was working with private lenders on a 30-year scheme to give Greece time to get on top of its debt mountain.
The economic daily Naftemporiki carried a front page photo of Sarkozy while the pro-government daily Ta Nea had a headline hailing the French "solution".