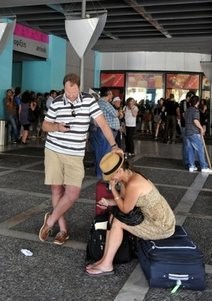 AFP/File – Tourists are stranded at the Greek port of Piraeus in late May 2010 during a union strike.
ATHENS (AFP) – Greece offered to compensate tourists stranded by labour unrest ahead of a new travel strike Tuesday as unions stepped up their assault against government austerity cuts.
Greek Culture Minister Pavlos Geroulanos told a news conference that the government would guarantee extra room and board payments made by visitors as rail unions started a series of stoppages.
"We are certain that it will be a calm summer and that there will be no major strike disruptions," a ministry source told AFP.
"But just in case something happens, the Greek state is prepared to cover these costs," the source added.
Tourism is a pillar of the Greek economy but strikes and related violence sparked by the country's debt crisis, as well as the international global crunch were estimated in May to have caused a 10 percent fall in hotel stays, according to tourism associations.
The minister told the press conference late Monday that compensation would even be paid for tourists stuck in Greece during the volcano eruption in Iceland in April that blocked European air routes for several days.
Geroulanos gave no details though of how much the compensation would cost nor how it would be paid.
Thousands of travellers have had holidays in Greece disrupted by successive strikes as the country grapples with a debt crisis that brought draconian wage and pension cuts.
Greece was recently saved from a debt default with a 110-billion-euro (136 billion dollar) bailout loan from the European Union and the International Monetary Fund.
But as Athens labours to maximise revenue, tens of millions of euros have already been lost from booking cancellations according to government estimates.
Railway workers on Tuesday began a series of two-hour work stoppages to last until Thursday, disrupting inter-city trains and services to Athens International Airport.
On Wednesday, communist-affiliated ship crews plan to block the main Greek port of Piraeus.
And the country's main unions have called a general strike -- the fifth since the start of the year -- on June 29.
Tourism generates about 17 percent of Greece's gross domestic product.