ATHENS (AFP) – Greek Prime Minister George Papandreou said Friday the debt-stricken country's survival was at stake as social tensions mounted over the price to be paid for an international bailout.
Police battled protesters in Athens as government negotiators sought to clinch a deal with the European Union and International Monetary Fund said to be worth 120 billion euros (160 billion dollars) over three years.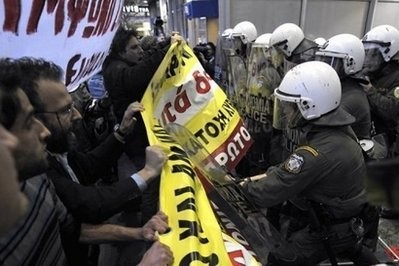 Riot policemen and demonstrators clash close to the finance ministry in Athens. (AFP photo)
The international institutions are seeking tough spending cuts, but Papandreou told the Greek parliament: "Today what is most important is the survival of the nation, that is our red line.
"The measures which we must take, economic measures, are necessary for the protection of our country, for our survival, for our future so that we can stand firmly on our feet," he said.
"It's a patriotic responsibility which we undertake no matter what the political cost."
Greece, whose public deficit has risen to an estimated 13.6 percent of gross domestic product, is racing to secure new funding by a May 19 deadline to repay maturing debt or default.
A Greek government source said a deal would be announced by Sunday.
"I'm confident that the talks will be concluded soon, meaning in the next days," European Commission president Jose Manuel Barroso told a press conference in Beijing.
"We believe that these solutions will be conducive to our actions and will prevent further possible effects of the contagion (effect on other eurozone countries)."
The EU and Greek authorities are making "solid and rapid progress" to finalise an agreement on the bailout, he said.
"Greek authorities have stated in very clear terms that they will take all measures needed to correct fiscal imbalances," Barroso said.
According to union officials who have spoken to Papandreou, the IMF and EU are demanding wage cuts, lower pensions and higher taxes. The bailout is already deeply unpopular in Greece because of the harsh conditions and police clashed with protesters on Thursday night.
Police fired tear gas at hundreds of demonstrators trying to march on the finance ministry to protest against the austerity cuts.
Further clashes erupted outside parliament.
More protests are to be held Saturday during traditional May 1 labour day rallies. Union officials say the EU and IMF have demanded spending cuts of 25 billion euros (33 billion dollars) in the next two years on top of sacrifices already made.
Some strikes have already been launched and a general strike has been called for May 5.
While fears persist that the crisis could spread to other heavily indebted European nations, markets appear to have been reassured by the news that some kind of a bailout for Greece was imminent.
Asian stocks rallied on Friday at the end of a tough week and the news also lifted the euro from one-year lows against the dollar.
Prospects for a deal improved after German Chancellor Angela Merkel softened her opposition in talks with IMF and European Central Bank leaders on Wednesday.
Berlin will be the leading European fund provider but the rescue is deeply unpopular in Germany where regional elections are to be held on May 9.
Signs that Germany would back the deal helped global stocks and the euro stabilise on Thursday, ending days of losses caused by the demotion of Greek debt to "junk" status and the downgrading of Portugal and Spain's credit ratings.