VIENNA, April 29, 2010 (AFP) - The financial markets are overreacting to the Greek crisis and a bailout of Greece by the EU would cost less than Germany paid to rescue its Hypo Real Estate bank, a top German economist said here Thursday.
"The markets are currently taking a very one-sided view of things," Deutsche Bank's former chief economist Norbert Walter said in an interview with the Austrian daily Der Standard.
"Greece is being pilloried. The market reactions are generating problems, which are primarily built up on speculation, but which then turn into reality," Walter said.
"Hypo Real Estate cost Germany more than 100 billion euros (132 billion dollars). Greece is therefore smaller than what we've already experienced," Walter said.
Hypo Real Estate (HRE) collapsed in late 2008 amid a global crisis owing to investment mistakes made by its German-Irish subsidiary Depfa.
The bank received a rescue package worth a total of 50 billion euros from a consortium that included the federal government, the central bank and private institutions.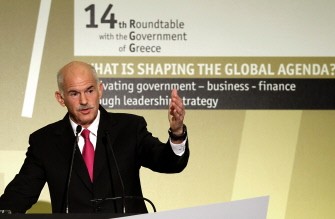 Greek Prime Minister George Papandreou speaks during an Economist conference in Athens on April 28, 2010. AFP photo
The property lender has also benefited from access to a total of 102 billion euros in state loan guarantees.
Another leading German economist, Martin Huefner, told the daily Salzburger Nachrichten, that Berlin, in particular, was managing the Greek crisis "miserably."
"Greece isn't the problem at the moment. The problem is the indecisiveness, particularly in Berlin," the economist said.
Germany has balked at leading Europe's rescue effort for Greece, signalling it will only lend money if Greece promises to make further heavy cuts to the public deficit, which the EU has estimated at 13.6 percent of gross domestic product.
"If people in Berlin insist on a restructuring of Greece's debt, then they have to be aware that buyers of those bonds will sell them again very quickly or won't buy them at all, because they known they'll have to write them off," Huefner said.
"Berlin is doing a miserable job of crisis management."
Huefner said the only way to calm the market was "resolute action. The important thing is to act quickly. If governments do nothing, then things will explode."