Greek banks, struggling to stay afloat after two years of unending crisis, are back in the firing line, beset by rumours of a run on deposits and facing more uncertainty as the country holds fresh polls.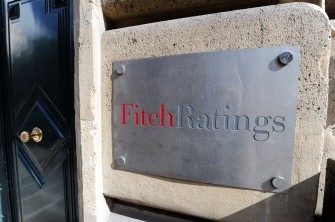 - A file picture shows the entrance of Fitch ratings agency on August 8, 2011 in Paris. Fitch Ratings on May 17, 2012 slashed Greece's credit rating to CCC vulnerable to default over the increased risk that the country would be forced to leave the eurozone
The problem goes beyond Greece, with the Spanish government trying to stabilise a banking sector crippled by soured property loans, but given its other problems over implementing a tough EU-IMF debt bailout, any bad news adds to fears of its exiting the eurozone.
Earlier this week, President Carolos Papoulias told political party leaders that 700 million euros ($890 million) had been withdrawn from Greek banks on Monday, adding to the turmoil on the markets.
A senior banking source, however, downplayed the issue on Thursday.
From the May 6 polls to Monday, there had been withdrawals of 800 million euros, the source said, noting that in March there was an inflow of 1.0 billion euros, with April estimated at the same amount.
The source, who asked not to be named, told AFP that 18 billion euros in funds due under the EU-IMF bailout for the recapitalisation of Greek banks was expected by Tuesday or Wednesday.
There has been a steady withdrawal of funds from the Greek banks since 2009 as the global financial crisis pushed the country to the edge, forcing it to seek a first EU-IMF rescue in 2010.
Some of the money no doubt has gone abroad -- London real estate firms have reported an upsurge in Greek interest in the past 18 months -- as people seek safety from a feared euro exit.
Such rumours fire up volatility in the markets and can be very hard to nail down, a feature of nervous times highlighted Thursday after reports that Spain's fourth-largest bank, Bankia, had been hit by a client run.
It is clear that deposit levels at Greek banks have fallen sharply in the past three years -- to 165.35 billion euros at end-March from 237.53 billion euros at end-December 2009, according to central bank figures.
At the same time, however, deposits by individuals and companies were higher, than in January 2005 when they totalled 136.9 billion euros and in January 2001, when the euro was launched, at 116.4 billion euros.
Analysts said the damage of Monday's withdrawal news was then compounded by reports that the European Central Bank was cutting concessional funding for several Greek banks -- suggesting Greece was being let go.
When the ECB clarified the position -- the Greek banks concerned were moving over to another mechanism of funding under the Bank of Greece -- "things calmed down," the senior banking source said.
"We are in a vicious circle," said Philippe Waechter, director of economic research at Natixis AM.
"The more the Greek banks cause concern, the more people are tempted to withdraw their money, which only makes worse the capital problems of some of the lenders," Waechter said.
Once the rumours start, it is notoriously difficult to track them down and they can disappear as quickly as they surface.
One story had it that Greek banks had limited any withdrawal to 50 euros -- one AFP journalist took out 580 euros in one go Thursday without any problem.
As for queues at banks, that did not seem to be the case Thursday in central Athens, with people both sceptical and guarded on the subject.
"I have not taken out any money because I do not have any," said Alexis, 68, smiling broadly, telling how his pension has been cut in half as a result of the government's austerity measures imposed under the EU-IMF bailout deal.
Some analysts say the markets may be especially susceptible to such rumours now because there is no certainty that the June 17 polls will produce a government that can live with the EU-IMF accord.
The latest opinion poll shows the radical leftist Syriza party, which wants to drop the deal and its austerity measures, in first place with 24.5 percent of the vote, up from its 16.78 percent showing on May 6 when it came second.
A Pulse poll for Pontiki satirical weekly said the conservative New Democracy party and the socialist Pasok, the mainstream parties who supported the EU-IMF debt rescue, would get 21.5 percent and 15.5 percent respectively.