Greece's violent street protests and economic turmoil are "disturbing" developments that serve as a reminder that the global financial crisis is not yet over, Australian leader Kevin Rudd said Thursday.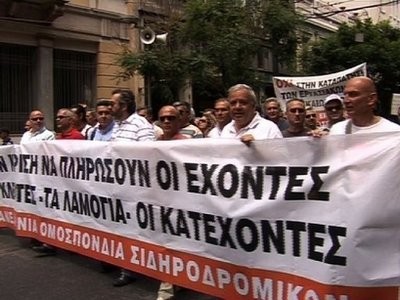 A fire-bomb attack on a bank in Greece has killed at least three people as police fought pitched battles with striking protestors furious at brutal budget cuts designed to avert national bankruptcy.
The Greek debt crisis and riots were a "sober reminder" that the "health of the European financial system could affect what was going on across the world," Prime Minister Rudd told reporters.
"We have done well in Australia to navigate this economy through the global financial crisis," he said.
"But looking globally, the global financial crisis ain't over yet and we are not out the woods yet either," he said, adding that the latest developments in Greece were "disturbing."
Financial markets worldwide suffered heavy losses on Wednesday, spurred by renewed fears that a massive Greek bailout will not be enough to stop its debt crisis from hitting Spain and Portugal.
Three people were killed in a fire started by Molotov cocktails thrown into a bank by rioters in Athens during a protest against budget cuts promised by the Greek government as part of its European Union bailout plan.
Greece's President Carolos Papoulias called on the country to step back from the brink after the protests and a general strike called by trade unions.
The Australian stock market opened about 1.2 percent lower on Thursday and then extended those losses through the morning, with big banks and major miners losing ground amid global jitters over the developments in debt-laden Greece.
Australian authorities are monitoring the crisis and will issue a travel advisory to tourists to Greece if necessary, Rudd said.
"The department of foreign affairs will be analysing the situation carefully and issuing any appropriate revisions to travel advisories," the prime minister told reporters near Melbourne.