FRANKFURT (AFP) – The swelling Greek debt crisis will overshadow the European Central Bank's policy meeting Thursday, with markets looking for nuances in support for Athens as it struggles to make ends meet.
Esoteric details of a new policy on collateral that eurozone banks put up to get ECB funds "could be immensely important for Greece and its banks," Goldman Sachs economist Erik Nielsen said.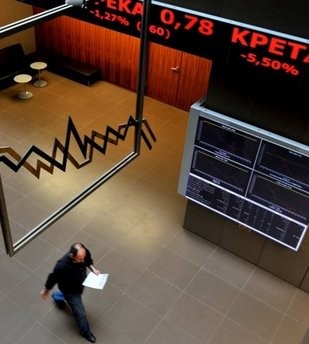 An employee walks through the Athens stock exchange. AFP photo
The policy will give investors a clearer idea of how much Greece's sovereign debt will be worth and could thus help ease unrest that might otherwise spread to other weak eurozone members such as Portugal or Spain.
"This might just be one of the most important communications by the ECB in its short existence," Nielsen said.
It is crucial for Greece that banks are able to continue to access ECB funds by putting up Greek government bonds as collateral despite pressure on the country's credit rating.
The main ECB interest rate will remain unchanged meanwhile at a record low of 1.0 percent, analysts say, while ECB president Jean-Claude Trichet will likely be pressed to clarify his position on possible IMF aid for Athens.
Trichet and other ECB directors had voiced strong opposition to aid by the International Monetary Fund to a eurozone member state, but it is increasingly likely such help will be necessary as part of a European Union rescue plan.
UniCredit analysts said: "Trichet will praise the agreement reached by EU leaders, but will probably add that the ECB considers IMF involvement as a last-resort, second-best solution."
The German daily Frankfurter Rundschau said Thursday that an internal German central bank note concluded the EU agreement would force the Bundesbank to transfer money directly to the Greek finance ministry and warned the deal "implies risk to stability that should not be underestimated."
The Bundesbank also reportedly criticised a possible IMF role, saying the Fund might be less strict with Greece than assumed. Related Article: Greek crisis coming to a head
A bank spokesman told AFP a working paper on the issue existed but declined to comment on its content, saying it had not been presented to bank directors.
Greek borrowing costs spiked to a record 7.322 percent on Thursday, the highest level since the country joined the eurozone in 2001, as confidence in Athens' ability to master its debt and deficit crisis fell steadily, dealers said.
The country must refinance tens of billions of euros (dollars) in debt in the coming months and problems finding the funds at rates that will not make the crisis worse have become a fundamental test of the eurozone's credibility.
Trichet has repeatedly expressed confidence in the ability of the Greek authorities to tackle the crisis, in part through disputed austerity measures, while financial markets and investors demonstrate their increasing scepticism.
"The bond market is getting a little impatient again on where exactly we are on the EU/IMF backstop package," ING debt strategist Padhraic Garvey noted.
The Financial Times reported Thursday that savers had taken 10 billion euros (13 billion dollars) in deposits from the Greek financial system, and the country's four largest banks have asked the government for guarantees worth 15 billion euros under a support scheme set up last year.
Europe's single currency has been undermined by the turmoil, which has also revealed sharp differences in the position of eurozone powerhouse Germany with respect to influential neighbours like France and Italy.
The euro weakened to 1.3332 dollars in Asian trading on Thursday.
Elsewhere in Europe, the Bank of England is expected to leave its key interest rate unchanged at 0.50 percent Thursday although Britain is emerging from a record recession in better shape than previously thought.