ATHENS, March 12, 2009 (AFP) - A Greek extremist group known for its violent attacks on Thursday threatened to carry out more bombings in the wake of two recent strikes targeting US banking group Citibank.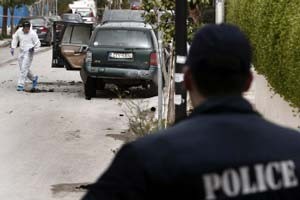 Greek police investigators inspect a damaged car after a bomb explosion in Athens on March 6, 2009 (Photo: AFP)
In an eight-page proclamation published in Greek weekly Pontiki, far-left group Revolutionary Struggle said its aim remained to foment "revolution" and use the global economic crisis against capitalism.
"We intend to continue timed (bomb) attacks," the proclamation said.
"We need to rid ourselves for good of all the scum of economic and political power so that humanity can free itself from these criminals.
"We must create (a mass movement) here and now so that the crisis can become the system's tomb," it added.
Greece's most dangerous far-left organisation earlier admitted responsibility for two attacks against Citibank targets in north Athens that caused no injuries.
On Monday, the group detonated a bomb outside a Citibank branch in the northern Athens suburb of Psychiko that caused significant damage.
Last month, it placed a powerful car bomb outside the bank's Athens headquarters that was defused by police.
The bomb, consisting of two clocks, batteries and fertiliser-based explosives packed in five gas cylinders, was hidden in the car trunk and could have taken out the building had it detonated, police said at the time.
Revolutionary Struggle is best known for a rocket attack on the American embassy in 2007 and features on the European Union's list of terrorist groups.
Greece has seen a wave of attacks by far-left groups following the fatal shooting of a 15-year-old by a policeman in December that also sparked protests and street violence around the country.