Greek media on Wednesday hailed a rare visit by German Chancellor Angela Merkel that gave a boost to the country's embattled coalition government during critical reform negotiations with EU-IMF creditors.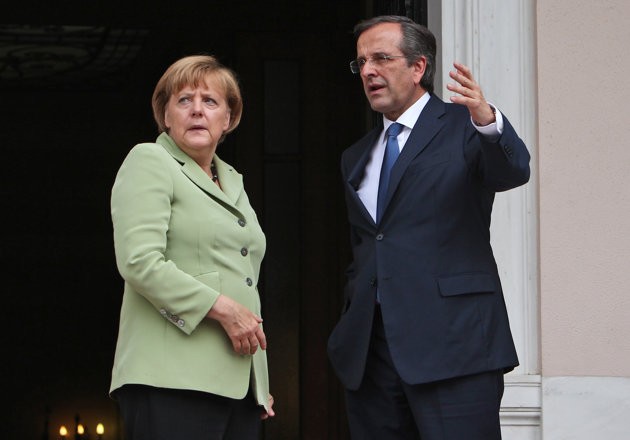 Greece's Prime Minister Antonis Samaras, right, and Germany's Chancellor Angela Merkel speak before their meeting at the Maximos mansion in Athens, Tuesday, Oct. …more 9, 2012.
Merkel's visit -- the first since the start of Greece's crisis -- came as the government of Antonis Samaras struggled to finalise a 13.5-billion-euro ($17.5-billion) package of austerity cuts.
Greece must approve the measures to unlock a loan slice of 31.5 billion euros from its outstanding EU-IMF bailout that has been stalled since June.
"Merkel sends strong message on November deal," said centre-left Ethnos daily.
"The visit confirmed the positive climate that now characterises relations with Germany...so barring any unforeseen developments, there should not be any concern about the disbursement of the loan tranche," Ethnos said.
More sceptical, financial daily Naftemboriki said the visit was "a mainly symbolic gesture" without practical results.
The austerity package must be approved by the EU, the IMF and the European Central Bank before the loan slice is released sometime next month.
"She came, she saw, she pledged," said top-selling Ta Nea daily.
"With her visit, Merkel ended a Greek isolation period of two-and-a-half years. Though she carefully worded her public statements, she succeeded in giving a strong message of support," the centre-left daily said.
Some 30,000 people according to police demonstrated in Athens against the German chancellor's visit and a smaller demonstration was held in Thessaloniki.
Sporadic clashes broke out near the parliament building in Athens when a few dozen protesters threw bottles and stones at police who fired back tear gas.
Over 200 people were detained for questioning before and during the protests in the capital and 24 of them were arrested.
Most of the German media however seemed to judge the trip a failure in terms of bringing the two countries together.
"Merkel's visit was intended as a goodwill gesture but it is doubtful that her quiet expressions of sympathy were heard by the demonstrators," the Frankfurter Allegemeine Zeitung daily commented.