Greek militant group Revolutionary Struggle on Thursday threatened to attack the "golden boys" it blames for the economic crisis as it claimed the bombing of the Athens stock market last week.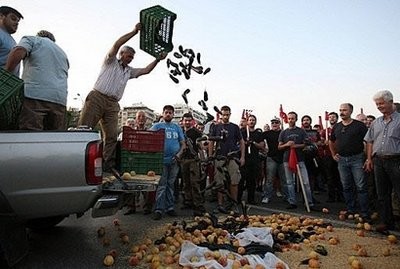 Farmers throw fruit and vegetables during a protest in the northern Greek city of Thessaloniki on Sep. 5, 2009. (AFP Photo)
Police spokesman Panayotis Stathis said the claim of responsibility by the outlawed group was considered "authentic".
Revolutionary Struggle distributed an 11 page communique which was published in full by the Pontiki newspaper, saying that the bourse attack was "a clear message: all those responsible for the current crisis -- big shareholders, golden boys and capitalists -- are going to pay for their criminal action."
The group said it would pursue its "strategy of attacks with a large quantity of explosives against the infrastructure of local and multi-national capitalism."
Revolutionary Struggle, which is on US and European Union terrorism lists, said it used a 150 kilogramme (330 pound) mixture of ammonium nitrate and petrol in the September 2 attack which severely damaged the stock exchange.
The group also claimed a May 12 attack which damaged a branch of the Eurobank in the Athens suburb of Argyroupolis.
Since 2003 the group has claimed 13 attacks, including one with a rocket on the US embassy in January 2007.