The crisis-hit Greek economy could shrink by more than two percent this year, worse than expected, the Bank of Greece warned Tuesday as the country fought to calm fears of a debt default.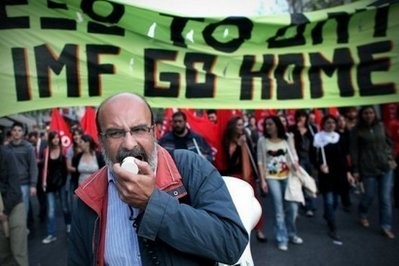 Protesters take part in a demonstration in Athens over the economic situation in Greece, April 23.
Bank of Greece governor George Provopoulos said a prior estimate in March that the economy would shrink by two percent in 2010 "is subject to a great degree of uncertainty given the current circumstances."
"There are strong possibilities of a further contraction," he said in delivering the Bank's annual report on the Greek economy.
Provopoulos called on the government to make additional austerity cuts to persuade sceptical investors that a necessary overhaul of deficit-generating sectors would be pushed through.
"The changes required are extremely urgent. The great problems which we hesitated to deal with for so many years are now before us...the road out of the crisis will be long and rough," Provopoulos said.
The government had originally pledged to slash the budget deficit by four percentage points this year, from 12.7 percent last year to 8.7 percent of output.
Provopoulos called for a cut over five percent.
"We need to outdo ourselves and surprise the markets positively by achieving greater improvements than those currently foreseen," he said.
The finance ministry recently admitted that the 2009 deficit would likely come to more than 12.9 percent. Last week the European Commission put the figure at 13.6 percent of output.
The Bank of Greece governor said Greece's public debt in 2009 hit 115.1 percent of output, the highest in the eurozone after Italy, and warned unemployment would rise to nearly 11 percent this year.
Unemployment already stood at 11.3 percent according to the latest state statistics figures in January.
Provopoulos' statements came as Greek Prime Minister George Papandreou said Greece needed "time and serenity" to carry out profound reforms and make its debt-shaken economy viable again.
The government is facing a desperate race against time to secure loans ahead of a May 19 deadline to pay bondholders some nine billion euros.
The yield on benchmark Greek 10-year government bonds surged to 9.401 percent on Monday, its highest level since Greece joined the eurozone, and signalling to analysts that investors still harbor grave doubts that Greece can overcome the crisis.
A decision by Greece to call on an emergency EU-IMF loan last week has failed to instill confidence that it can keep up debt payments without an accompanying economy revival at home.
"There are concerns regarding the competitiveness and growth of the Greek economy, two parametres on which the servicing of the debt will depend in future," Provopoulos said.
"In other words, the markets are continuing to focus their attention on the debt dynamic," he added.