Greek socialist leader George Papandreou on Sunday pledged to "turn a page" on scandals and economic malaise associated with the outgoing conservative government which suffered a shocking electoral defeat.
"We have a mandate to turn a new page," Papandreou told reporters as supporters of his Pasok party celebrated the socialists' return to power after over five years in the opposition.
"Today we start together the great national effort of placing the country back on a course of revival, development and creation."
"We don't have a day to waste," he said.
Pasok supporters honked horns and waved flags as the party's unexpectedly resounding victory became apparent: with over 70 percent of polling stations accounted for, the socialists prevailed by nearly 10 points over the ruling New Democracy conservatives.
Polls ahead of the election had given Pasok a seven-point lead at best.
The socialists garnered 43.89 percent of the vote and are eyeing a 159-seat majority in parliament. The conservatives were held to 34.35 percent and mustered 94 seats according to incomplete results.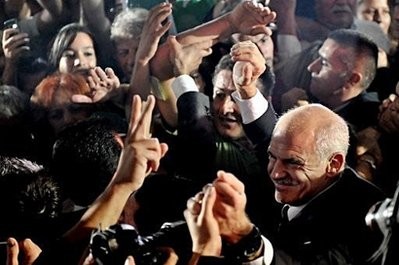 Greek socialist party leader George Papandreou (R) waves to supporters of PASOK on arrival at the party's headquarters in Athens.
Facing the prospect of New Democracy's worst showing in 35 years, Prime Minister Costas Karamanlis conceded defeat early in the night and resigned his party chairmanship.
"The only responsible and honest course of action for me is one: I assume responsibility for the result and will launch procedures for the election of a new party leader," an emotional Karamanlis said in a televised address.
The outgoing prime minister said he would not stand as a candidate in an emergency party congress to be held in a month's time.
The Pasok victory makes its leader the third Papandreou to govern Greece since World War II after his father Andreas -- who founded the party -- and his grandfather and namesake George Papandreou, Greece's first prime minister after the country's liberation from German occupation in 1944.
The conservatives' defeat at the Sunday polls ironically came on the 35th anniversary of New Democracy's founding by Karamanlis' uncle in 1974.
New Democracy had fallen to a low point of 35.86 percent in 1981, during an election campaign that saw George's father Andreas sweep to power for the first time.
Karamanlis called the snap election two years ahead of schedule after his administration became mired in scandal and hamstrung by a one-seat majority in parliament for months.
He said a government with a fresh mandate was needed to deal with the effects of the economic crisis with the Greek economy barely hovering above recession.
Buoyed for years by annual growth of about four percent, partly attributed to EU funds, Greece's output growth is now at near zero.
Greece's public debt, one of the highest in the 16-nation eurozone, is set to exceed 100 percent of gross domestic product this year, and the European Union placed the country under supervision in April over its excessive budget deficit.
To help solve the crisis, Karamanlis, 53, had promised a two-year austerity policy coupled with a crackdown on tax evasion.
Papandreou, 57, proposes to invigorate the economy with salary and pension hikes above the rate of inflation in 2010. He has also announced a 100-day plan to boost the market, create jobs and clean up public finances. Profile of George Papandreou
"I know this country's great potential well," he said.
"I pledge to make every effort to persuade Greeks that we can achieve this."
The results showed that Pasok had managed to keep its voters from flocking to other left-wing parties and to a fledgling Green party which gained visibility after fires which killed 77 people in 2007 and scorched Athens' eastern suburbs earlier this year.
In a gesture to smaller parties, Papandreou called on "progressive forces" to join his effort.
Analysts had earlier warned that a high level of support for the Greens, who need three percent of the vote to enter parliament, could have doomed Pasok's aim of forming a single-party government.
On the other hand, Karamanlis' party lost voters to Pasok and the nationalist Laos party which capitalised on immigration fears and a surge of youth violence after the fatal shooting of a teenager by police in December.
The Communist party KKE occupied their customary third party position with over seven percent of the vote. Laos followed with over five percent, leapfrogging over the Syriza leftists -- the party most closely associated with the December protests -- which comes fifth at just over four percent.
The Greens garnered over two percent of the vote but most analysts doubt they will make it to parliament.
Sunday's election was notable for the introduction of a faster results transmission system employing closed-circuit cellphones at over 4,500 polling stations.