Most Greeks were "alarmed" by May 6 elections that fragmented the political scene and put a neo-Nazi group in parliament, and now want a coalition cabinet at all costs, an opinion poll showed on Sunday.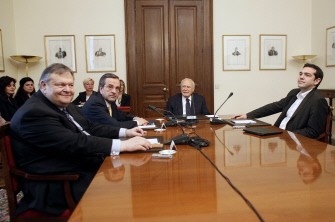 Greek Socialist Party leader Evangelos Venizelos (L),leader of the New Democracy conservatives, Antonis Samaras (L2),leader of the Coalition of the Radical Left party Alexis Tsipras (R) meet with Greek President Carolos Papoulias (C) on May 13, 2012.
The Kappa Research poll in To Vima weekly showed that 42.8 percent of respondents felt "alarm or fear" after the result, while another 23.3 percent were "disappointed."
In contrast, "hope" was the overriding feeling for 35.2 percent of those quizzed by telephone nationwide.
Voters last Sunday punished the mainstream parties and left a fractured political landscape amid intense EU pressure over Greek finances.
Socialist Pasok and conservative New Democracy that had pushed through new austerity measures in the previous coalition government failed to even win a majority between them.
The radical leftist Syriza party that wants to tear up Greece's loan agreement with the EU and the IMF shot up to second place, and the neo-Nazi group Golden Dawn was elected to parliament for the first time in the country's political history on a wave of immigration and crime fears.
The poll was published hours before Greece's president was to hold talks with political party chiefs in a final attempt to form a coalition after three parties failed at the task following the inconclusive elections.
Among over 1,000 people queried by Kappa Research, an overriding 72 percent said parties should cooperate "at all cost."
And in response to a separate question, 78 percent said the new government should do "whatever it takes" to keep Greece in the euro.
Greek parties have until Thursday, when parliament convenes, to form a cabinet, or new elections will have to be called in June.
The country's international creditors have warned that no new loan payments will be forthcoming if Greece falters on structural reforms required to put the economy in order after decades of overspending by the state.