Some 39,000 people in Greenland vote on Tuesday in a referendum on self-rule for the Danish territory, a move that could pave the way for total independence for the Arctic island.
Public opinion polls in the run-up to the referendum have suggested that a large majority plan to vote in favour of greater autonomy for Greenland, which was granted semi-autonomy from Denmark in 1979.
Polling stations open at 9:00 am (1200 GMT) and close at 8:00 pm (2300 GMT). The result is expected around midnight (0300 GMT Wednesday).
According to a poll published on the eve of the plebiscite, 61 percent of voters said they would vote "yes" to self-rule and 15 percent said they would vote "no."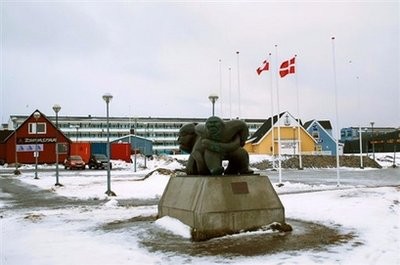 The Greenland (left) and Danish flags flutter in Nuuk, the capital of Greenland.
A total of 19 percent said they were undecided and five percent did not plan to vote at all. The poll was published in the online edition of the island's biggest daily Sermitsiaq.
If the "yes" side wins, the local Greenland government has the chance to take control of new areas such as natural resource management, justice and police affairs and to a certain extent foreign affairs.
There are potentially lucrative revenues from the natural resources under Greenland's seabed, which according to international experts is home to large oil deposits.
Greenlandic would also be recognised as the island's official language.
The referendum is officially non-binding, but the local government has vowed to respect the outcome even if it goes against greater autonomy.
If the self-rule supporters win, the new status would take effect on June 21, 2009.
Local government chief Hans Enoksen stressed in a radio interview in the final days of the campaign that the referendum "is not about independence."
"Agreeing on self-rule is the only road forward," he said, adding however that he hoped for full independence in the not too distant future.
Like most of the parties in the local parliament, as well as the Greenlandic media, the Social Democratic prime minister has called on voters to "take advantage of this opportunity."
Lars-Emil Johansen, one of two Greenlandic members of the Danish parliament, says he dreams full independence will come by 2021, in time for the 300th anniversary of Denmark's colonisation of Greenland.
"Of course we can be the masters of our own destiny and fly on our own wings," he told AFP.
Not all Greenlanders dream of breaking loose from Denmark however. A fringe movement, backed by a single political party, the Democrats, has emerged as an outspoken critic of the proposal.
"Greenland will never be an independent state," Finn Lynge recently stated, much to the dismay of his Siumut party, which is a leading member of the government coalition and strongly in favour of a "yes" vote in the referendum.
"There are only between 50,000 and 60,000 of us living here in geographically and climatically extreme conditions. With such a tiny population it is impossible to provide the human contributions needed to turn Greenland into a modern and independent state," he said.
With its 2.1-million square kilometre (840,000 square mile) surface, 80 percent of which is covered by ice, Greenland is the world's largest island. It counts 57,000 inhabitants, 50,000 of whom are native Inuits.
In 2007, the territory received subsidies of 3.2 billion kroner (432 million euros, 540 million dollars) from Denmark, or about 30 percent of its gross domestic product.
In 1982, it voted by referendum to leave the European Union, of which Denmark remains a member.