Pressure mounted Thursday on Myanmar's junta to let in foreign aid agencies as hundreds of thousands of cyclone survivors faced starvation and disease and a US diplomat said the death toll may top 100,000.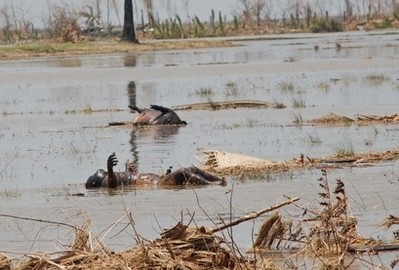 A dead body (front) lying near a dead pig (background) in the debris left from Cyclone Nargis on a flooded field in Labutta, a town in the Irrawaddy division of southwest Myanmar, on May 7 (AFP)
Aid is starting to trickle in but neither quickly enough nor in sufficient quantities to really help people in the stricken Irrawaddy delta who saw their villages ripped apart by Cyclone Nargis.
A military official in the delta township of Labutta estimated 80,000 dead there alone, and many families told an AFP reporter who travelled to the area that most of their relatives had been killed.
Dozens of the 63 villages surrounding Labutta have been wiped out, said Tin Win, a district leader. "So far the estimated death toll in those villages is about 80,000," he told AFP.
Shari Villarosa, US charge d'affaires in Yangon, said there could be more than 100,000 dead in the Irrawaddy delta region where 95 percent of buildings were reported to have disappeared.
In a conference call with reporters in Washington, she warned of a shortage of staple foods such as rice and a "real risk" of disease because of the lack of clean drinking water.
UN Secretary General Ban Ki-moon called it a "critical moment" for one of the world's impoverished nations.
Myanmar opposition leader Aung San Suu Kyi's National League for Democracy said survivors were in "urgent need" of foreign assistance but the White House said the generals still had not responded to its offers of help.
"It should be a simple matter. It's not a matter of politics. It's a matter of a humanitarian crisis," US Secretary of State Condoleezza Rice said.
Frustrated aid agencies have said they are still being denied permission to enter Myanmar and use their experience and expertise to ensure the right aid gets to the neediest places as soon as possible.
UN humanitarian chief John Holmes said the sheer scale of the tragedy was becoming clearer and urged the junta to facilitate the arrival of relief teams and the distribution of badly-needed emergency supplies.
"We need to encourage the authorities to move further and not to bludgeon them over the head," he told the BBC.
"I think the best thing to do at the moment is (to) go down the path we're going, discuss it constructively, make sure we get the aid in."
Holmes said the regime's cooperation was "reasonable and, I think, heading in the right direction."
He said 24 countries had offered specific help and another six unspecified aid, adding up to well over 30 million dollars with more to come.
But an AFP reporter who reached Labutta in the remote southern delta worst affected by Cyclone Nargis, which has officially left more than 65,000 dead or missing, said there was virtually no food or fresh water left.
Witnesses told AFP how survivors had spent days wading through murky waters strewn with festering bodies, all desperate to find shelter, food, water and medical care.
"They have lost their families," one recounted, "they have nowhere to stay and they have nothing to eat."
Witnesses said that Saturday's storm, packing winds of 190 kilometres (120 miles) per hour, had left the delta region submerged under six-metre (20-foot) waters higher than the tree-tops.
As the waters receded, countless corpses have been left rotting in the heat alongside the bloated carcasses of animals.
Authorities in Yangon raised the official death toll to nearly 23,000 late Wednesday, with state media saying more than 42,000 others were missing.
After days of pressure on the military, which has ruled Myanmar for nearly half a century, Holmes said a World Food Programme (WFP) plane was expected to arrive here early Thursday.
The UN's Office for the Coordination of Humanitarian Affairs said the WFP had already been able to distribute some food aid in Yangon, and aid has also arrived from Thailand and China.
In addition to the WFP plane, another flight is due to leave by the end of the week from southern Italy.
The UN refugee agency said 22 tonnes of supplies were stuck at the border with Thailand awaiting permission to enter.